Trail Ranger Tuesday: Introductions Part 2
A few weeks ago, we introduced some of the members of our Trail Ranger team, the crew of enthusiastic trail lovers out every day supporting the growing community of trail users in DC.   It has been a busy few weeks with events on the
Anacostia Riverwalk
and
Suitland Parkway Trails
, but we have not forgotten about the rest.  If you see us out on trail, give us a wave.
Kristina Byrne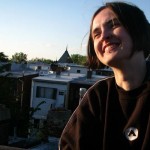 Often following curiosity rather than a compass, Kristina Byrne enjoys getting lost, whether it's in the woods, a story, or a good conversation. A child's fascination with the tropical rainforest has led Kristina to a lifetime commitment to tree hugging. Her path has led through the Central American rainforest and US Government bureaucracy, restoring urban forests in Seattle and teaching English to underserved youth in Chile. Through her experiences, Kristina has become passionate about both social and environmental issues, the intersection of which has found the sometimes ironically titled field of sustainability. Frustrated at being a sustainability professional within the old boy's club, Kristina has gotten involved with the DC poetry scene to be a part of the ongoing conversation about social issues within a diverse community of artists. Writing has helped to make her own existence more sustainable as she works on asking the question, what is the future we want to build? In addition to working with WABA, she works with
poetryN.O.W.
in support of young people critically engaging with the world through poetry and on the staff of
Words Beats & Life: The Global Journal of Hip-Hop Culture.
Jason Horowitz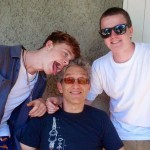 That's me and my two sons (Jeffrey and Aaron from left to right) on Father's Day. For many years family and art (I am a photographic artist) have been the two main focal points of my life. Over the past four years cycling has joined them. Warned by my doctor to get in shape ("you're not 30 anymore"), I went out to the garage, literally dusted the cobwebs off my bike and went for a ride. That first short ride rekindled my childhood love of cycling and more than 5000 miles later my doctor is happy and I am still going strong. In the last couple of years I have been on a cycling trip on the GAP trail, circumnavigated Manhattan on my bike, and ridden the DC area trails over and over. We even got rid of our car. And now I am thrilled to be working as a WABA Trail Ranger. It's a chance to share my love of cycling and help make DC a better, more cycle-friendly place to live and work. See you all out on the trails!
---
Want to meet them in person?  Join us for a community bike ride and cleanup on and around the 
Marvin Gaye Trail
on
Sunday, July 27
(
Register Here
). Or, 
sign up
 to keep up with the Trail Ranger team and get updates on trail events this summer.