Connect the 7th NW St Bike Lanes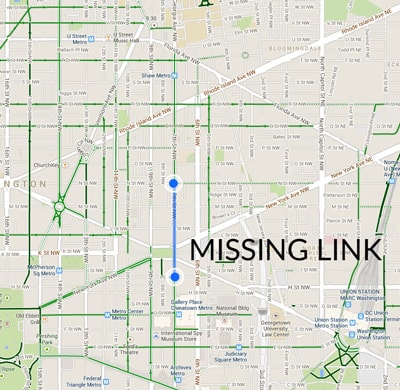 This guest post is written by

Lauren Hayes

, a WABA Member from Washington, DC. Have an advocacy issue you'd like to write about for our blog? Contact us at advocacy@waba.org.
One of my favorite parts of the day is my commute. Like many DC residents I save money, stay fit, and see the beauty of DC by riding my bike to work. After years of riding in DC, I love seeing bike lanes expand across the city. As the bike network grows, though, the places where the connectivity fails begin to stand out. If you ride daily like me, then you can probably think of a few such spots. For me, it's the bike lanes on 7th Street NW. If you ride on 7th st NW (perhaps en route to Dacha for an outdoor beer or to the bike shop) then you are familiar with this odd stretch of lanes. The bike lanes start at Florida Ave and extend south to N St NW. At N St, despite no obvious change in the width of the road, the bike lanes end. Cyclists have to mix into car traffic to continue south.
Sign the Petition to Extend the 7th St. Bike Lanes
This gap in bike lane connectivity, just as 7th street intersects with two major diagonal streets (Massachusetts and New York) at Mt Vernon Square, makes for a nerve-wracking five blocks. And then, despite the ostensible bike/bus lane south of I St , the ride through Chinatown can feel pretty hairy too—that section is of often congested with out-of-towners and traffic between the National Mall, the Verizon Center and 395. Fortunately for me, at this point I arrive at work and can safely tuck my bike away until the evening commute back along this challenging route. The frustrating part is that 7th Street (and many others around the city) should have bike lanes by now. According to the 2005 DC Bicycle Master Plan, these bike lanes lanes were supposed to be built between 2010 and 2015. We've got 4 months left until 2015 and there's no sign of a  bike lane. The District Department of Transportation (DDOT) should prioritize filling the gap on the 7th St bike lanes from N Street NW to Mount Vernon Square immediately. Currently, there are two northbound lanes and only one southbound. To install the lanes, DDOT will need to remove extra northbound lane and re-purpose the space. This project would not effect on-street parking. Because of  growing pressure regionally to maintain car capacity, DDOT has slowed the pace of bike projects that re-purpose travel lanes.  DDOT planners are forced to jump over additional bureaucratic hurdles to move lane/road diet projects forward. Meanwhile, as excess car capacity is protected, local residents lose the ability to bike short trips on dedicated bike infrastructure. After addressing this immediate gap, DDOT must address the dysfunctional bus/bike lanes in Chinatown. As currently configured, they do not work. Drivers use the lanes with impunity, causing bus delays leaving no dedicated space for people riding bikes. You can get involved to help extend our bike lanes by signing the petition requesting DDOT to address the gap in the 7th Street bike lanes. Please share the link to the petition with your friends, co-workers and other fellow bike commuters. If you live in ANC 6E,
please speak with your ANC Commissioner
and express your support for extending the bike lanes. Thank you for your help. I look forward to seeing you during the daily commute!