Don't Let MCDoT Eliminate Part of the Capital Crescent Trail
Updated 4:15pm.
We received the following email from Bruce Johnston at MCDOT informing us that the agency has suspended its request to MTA:
Good afternoon Shane, As directed by Director Holmes, MCDOT staff has contacted MTA to suspend the previous orders to MTA to make changes to the Capital Crescent Trail configuration at Jones Mill Road. Subsequent to the aforementioned order, additional engineering information has been provided to our staff, which is currently being reviewed by MCDOT engineers. After our evaluation is complete, and before any further decision is made, the results of our evaluation will be vetted with the Capital Crescent Trail stakeholders, including the bicycling community. Be assured that Washington Area Bicyclist Association will be involved. I hope this information is helpful. Bruce Johnston
Thank you to everyone who contacted the County Executive, T&E Committee, and MCDOT about this matter. And thank you to Bruce, Director Holmes, and MCDOT for reconsidering this decision.  We look forward to continuing to push for a safe, well-designed Capital Crescent Trail with grade separated crossings, as promised.
---
Original action alert below
After years of public input and agreement on the design for the future Capital Crescent trail, the Montgomery County Department of Transportation (MCDOT)
just moved unilaterally to eliminate the long-promised grade-separated crossing of busy Jones Mill Rd
.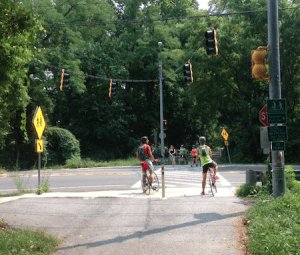 The grade separation makes the trail safer, and safety is vital to ensuring this heavily travelled trail remains a viable transportation option. Through thousands of hours of meetings on the future of the Capital Crescent Trail, County officials have promised safe crossings of major roadways that don't leave bicyclists competing with cars or pressing "Walk" buttons and waiting for minutes. But the County's own transportation officials just sent a letter to the Maryland Transit Agency (MTA), requesting that the separation be removed from the request for proposals (RFP). Despite years of working together on this project, MCDOT did not notify the public. They did not hold a meeting. They did not mention this at a Council hearing. They did not send a note to representatives of the bicycling community. It is unclear whether they even communicated their intentions to the County Executive.
Frankly, they tried to sneak this past without any of us noticing.
We noticed. We noticed that at the first opportunity to save money by sacrificing trail safety, they attempted to do so in a manner that evades public scrutiny and reneges on years of promises. We need you to take action today to tell the County Executive that we will not stand for such a downgrade to our prized trail, or for such misleading actions from our local transportation officials. Our hope is that the County Executive's office was as misled as we were, and that they will immediately, clearly, and unambiguously tell MTA that the County is NOT seeking an amendment to the Purple Line RFP to eliminate the grade-separated crossing at Jones Mill Road. With years of work still ahead to complete the trail as promised, we cannot stand for a precedent of closed-door decisions that remove, or compromise, long-promised trail improvements. For an in-depth engineering perspective on why a grade separated crossing is both doable and the best option. check out this post at
Silver Spring Trails
For WABA's position on the Purple Line project, have a look at
this post
.