Five Reasons To Join the Treasure Hunt
On August 30, our Trail Ranger crew is bringing
a treasure hunt to the shores of the Anacostia River
. If you're not swayed by promises of a lighthearted team competition wrapped in a bike adventure with cheeky pirate themes, here are the top five reasons to weigh anchor and pedal down to Diamond Teague Park next weekend.
5. There's Real Treasure in DC's Backyard!
OK, so truth be told, you won't see any rubies or gold pieces, but you may be surprised by what your team digs up.  DC has no shortage of sweeping views, so you can expect plenty of those.  But just as exciting are the places where the trees take over and the city fades away.  Come find your new favorite hideaway.
4. The Anacostia Riverwalk Trail is Amazing!
The eight mile loop is a pleasure to ride.  With sweeping bridges, easy connections to nearby streets and thriving wildlife, the trail is an attraction all on its own.  And it is only getting better!  Construction is underway on a 4.5 mile connection to Maryland's Anacostia Tributary Trails, so expect a significant bump in trail users by Spring of 2016.  Quit waiting.
3. There are Boats of All Sizes
We hope not to see any naval battles, but there sure are a ton of ships to board like the Navy's display ship Barry
or this one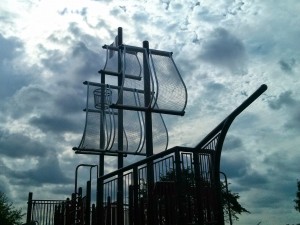 2. Kids will have blast too!
Our younger, bike savvy explorers can expect a shorter, more directed route mapped out on a treasure map of their own.  Along the way, they'll find some great views, shoeline riding, and a few surprises.
1. Treasure Maps, Clues, Exploration, Bikes and Prizes!
Bike rides with friends are fun.  Bike rides with friends with treasure maps and riddles are better.  Add costumes, prizes, a little bit of bushwhacking and prizes and you've got a real adventure!  Come join in the fun.