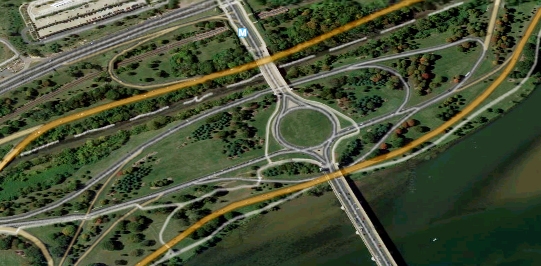 Navigating the Arlington Memorial Circle is a major obstacle for area bicyclists. The Mount Vernon Trail, Route 110 Trail and Arlington Memorial Bridge (the direct connection to the National Mall) converge at the circle. Trail users are forced to dash across high speed traffic at grade to cross the many highways, parkways and the traffic circle. There were a number of serious crashes involving pedestrians and bicyclists in 2010 and 2011, leading NPS to make some short-term safety fixes to trail crossing.
Now, the George Washington Memorial Parkway is starting a Transportation Plan and Environmental Assessment to study the long-term and major fixes need to vastly improve safety and the park experience for bicyclists, pedestrians and drivers. The planning process will take almost two years to complete with a final decision document not expected until the summer of 2016.
There are a number of opportunities in September to learn more about the planning process. National Park Service is also accepting comments until September 30th during this initial phase. Visit the National Park Service Park Planning website to learn more about how to get involved.