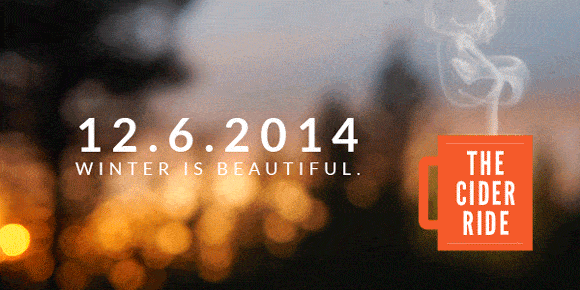 The fall ride event you've all been waiting for is here. Registration for The 2014 Cider Ride is now open.
Join WABA in Montgomery County, MD for our second annual Cider Ride, a metro-accessible bike tour of some of our region's best and most beautiful country roads. The ride will start from Mattie Stepanek Park in Rockville, just across the street from the Shady Grove Metro Station.
Riders can choose between the longer Honeycrisp route, approximately 55 miles, or the shorter McIntosh route, approximately 20-25 miles. The Honeycrisp route will take riders out toward Poolesville where you can enjoy hot cider and snacks at the cider pit stop at Kingsbury's Orchard in Dickerson, MD before looping back to where you started. The shorter McIntosh route will stay close to Rockville taking riders mostly on trails and side paths. McIntosh riders will enjoy hot cider and snacks upon return to Stepanek park. Each year WABA's Cider Ride will feature a new scenic tour of the region's back roads, country roads, agricultural lands and farm sites that are accessible by bike.
Registration for The Cider Ride is open to WABA Members only at the moment  (another benefit of your WABA membership!). If you would like to register for the ride but you are not currently a WABA member, renew or join today, before registration fills up!
Click here for more information about The 2014 Cider Ride and event details.
Interested in being a ride marshal or helping out as a volunteer? If you are an experienced cyclists and can help assist and guide other riders, click here to apply to be a ride marshal for The Cider Ride. If you can volunteer for a few hours in the morning at the ride start location or a few hours in the afternoon at the cider pit stop, click here to sign up.