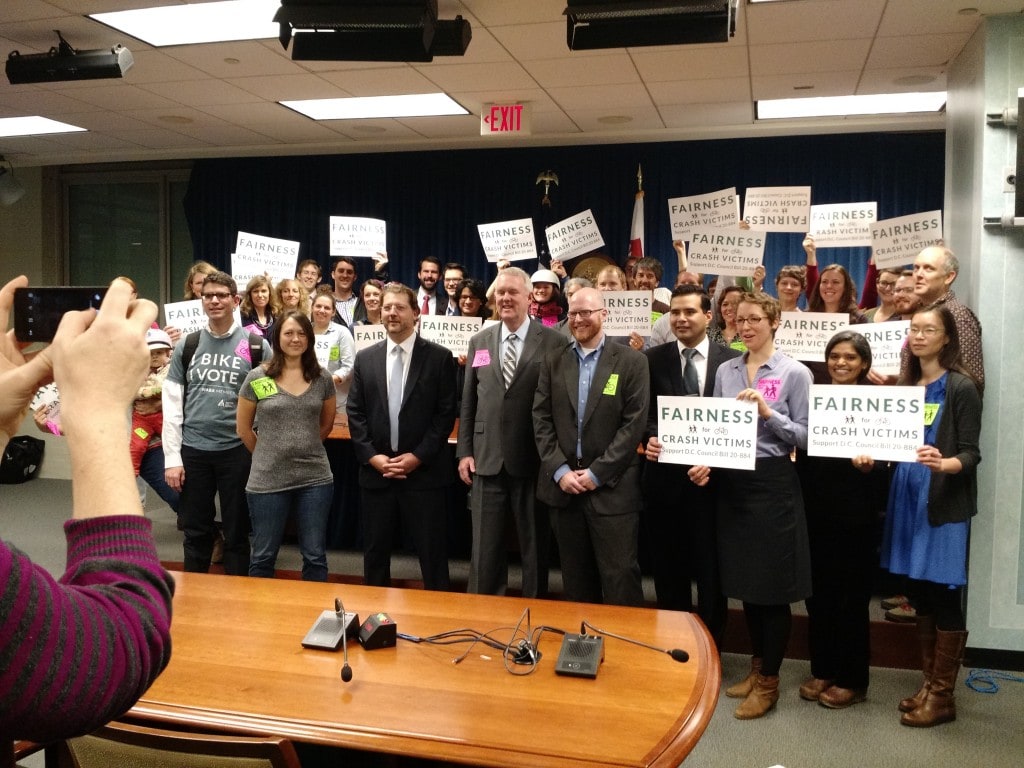 Today, the Committee on the Judiciary and Public Safety held a legislative mark-up session on a number of bills, including the Bill 20-884 "Vulnerable User Recovery Act of 2014". The Committee voted to postpone mark-up until next Wednesday, November 12th to allow all involved parties one last opportunity to craft a bill that meets the needs of vulnerable roadway users and the concerns of other stakeholders in the legal community. Councilmembers Jack Evan, Mary Cheh, Anita Bonds, Tommy Wells and David Grosso (not a member of Judiciary Committee) were in attendance at this morning's mark-up.
Councilmember Tommy Wells and David Gross with WABA and All Walks DC held a joint press conference and rally in support of the legislation before the DC Council. The bill, if passed, would move the District to a fairer negligence standard to enable crash victims to collect compensation from driver's insurance.
Yesterday's press conference was attended by dozens of local residents calling on the DC Council to move the bill forward to protect the most vulnerable road users. Following votes from next week's mark-up, WABA will post the vote results and a legislative scorecard online. You can learn more about the scorecard here and more about WABA's campaign to bring fairness for crash victims.
As we all wait until next week's vote, take some time to read the press coverage from yesterday online here, here, here, here, here , here, here and here. Please also take a moment to contact your Councilmember to ask for their support of the bill.
Take Action: Ask DC Council to Support the Bill