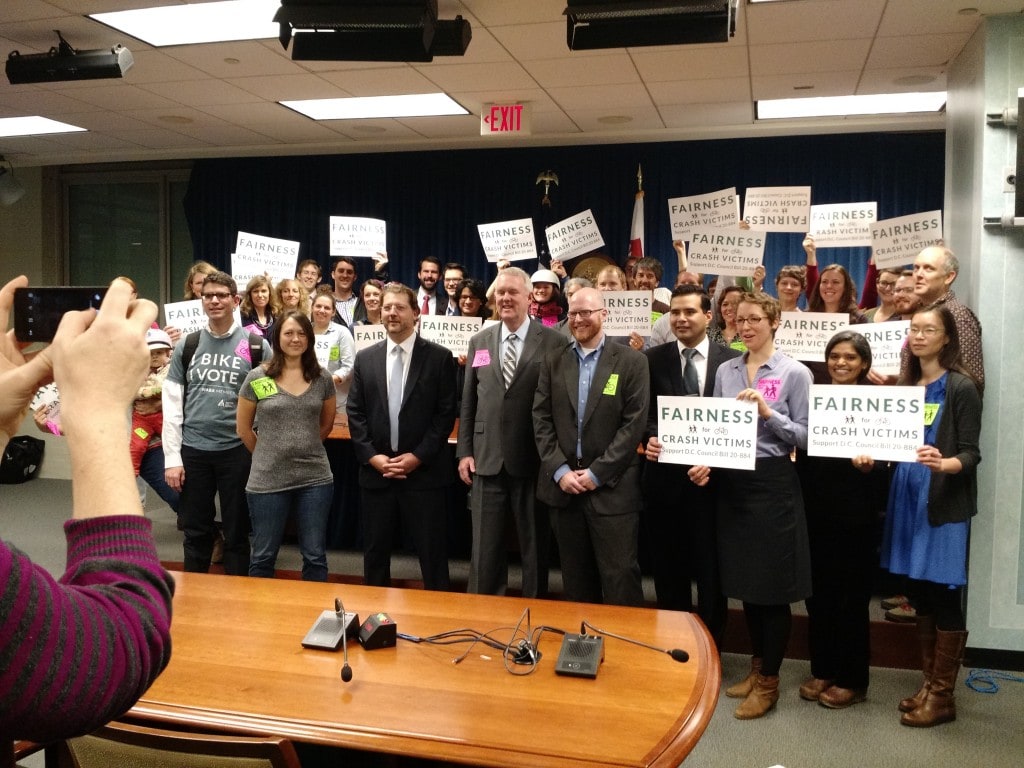 Councilmember Mary Cheh (Ward 3) introduced a bill in the D.C. Council to improve access to compensation for crash victims. Under current D.C. law, injured bicyclists and pedestrians can be completely denied compensation after a crash with a motor vehicle even if they were minimally negligent. In 2014,  Councilmember David Grosso (At-Large) introduced a similar bill, but it was ultimately tabled.
The Motor Vehicle Collision Recovery Act of 2015 addresses the same underlying issue of inappropriate denial of compensation to minimally negligent bicyclists, but with slightly different mechanics. Under the proposed bill, contributory negligence could not be used to deny coverage to a bicyclist or pedestrian who was 50% or less responsible for his or her own injuries.
When the bill is available online, we'll provide deeper analysis and a link to the draft language. For more background about the issue of contributory negligence for crash victims, you can learn more by reading our blog post responding to the 10 most common question.
The bill was co-introduced by Councilmembers Charles Allen (Ward 6), Jack Evans (Ward 2), David Grosso (At-Large), Anita Bonds (At-Large) and co-sponsored by Yvette Alexander (Ward 7). The legislation was referred to the Committee on the Judiciary, chaired by Councilmember Kenyan McDuffie (Ward 5). The Committee must hold a public hearing on the bill and a public mark-up meeting. If the bill were to successfully make it out of committee, the full D.C. Council would then weigh in.
As the bill moves through the legislative process, we will provide updates here on the WABA Blog and our campaign page. You can also sign-up for email updates about this campaigns and we'll be sure to alert you when action is needed.
Thank you to Councilmember Cheh and today's co-sponsors and co-introducers for moving this important legislation.