Introducing Street Wize Foundation, a WABA Business Member
WABA's Business Members understand the importance of a community that bicycles. Their membership supports our advocacy, outreach and education. Our business members are committed to a sustainable future of our region and are adding their voice to a growing number of bicycle-friendly businesses supporting WABA. Today meet the Street Wize Foundation.
You may recognize the Street Wize Foundation because they were one of WABA's first Business Members. The Street Wize Foundation continues to educate youth about safe and proactive activities. Their programming even includes a Ride Safe! Bicycle Safety Program.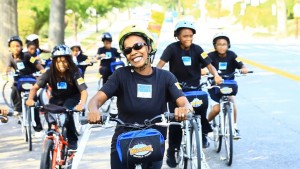 The Ride Safe! Program uses a combination of in-classroom and on-street activities to education children kindergarten through high school! We are proud to called the Street Wize Foundation a Business Member! Do you own, work for, or patronize a business that is a good candidate for our 
business membership
? For just $300 or $800 per year, you can show your support for a bike-friendly region and WABA's advocacy and get all sorts of perks, including your very own blog post! 
Details here
.