A Path Forward for the WB&A Trail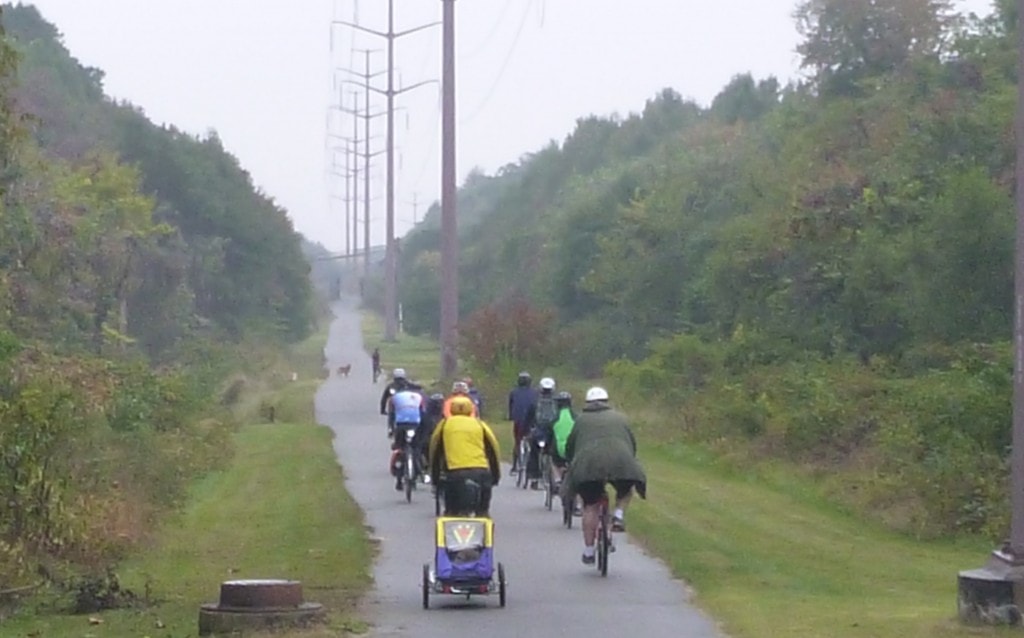 The Washington, Baltimore & Annapolis Trail (WB&A) in Prince George's and Anne Arundel Counties promises to be everything that a first class rail trail can be. Following the path of an abandoned commuter rail line of the same name, the WB&A cuts a remarkably linear route through woods and suburban neighborhoods from Glenn Dale to Odenton, MD. And while officials have been struggling for more than 15 years over the best place to cross the Patuxent River (another story), the bridge and tunnel bypasses already built make the trail a delightful reprieve from riding in traffic. Looking to the future, the WB&A could become the eastern spoke of the Washington area's robust trail network. Just over 10 discontinuous miles of trails are already built; the hard work remains to connect it to other trails and the District of Columbia.
Give it a destination.  Extend the WB&A
Starting at the eastern trail terminus in Prince George's County, today, the trail covers 5.6 miles to… well not much.  At Annapolis Road (MD 450), the trail ends, falling short of the District of Columbia line by nearly seven miles. At this intersection, a paved side path on Annapolis Road links to the Folly Branch trail to the north and a shopping center and Bowie Town Center to the east.  These connections are useful, but they serve better as feeders to the main trunk line rather than extensions.  To fully realize this trail's potential as a recreation and commuter route, it needs a direct connection to the regional trail network. It must be extended west, and the first big hurdles are crossing US 50 and the Capital Beltway.
MD-704 is no place for trail traffic, but it could be
Martin Luther King Jr. Ave. (MD-704), which follows the same old rail right of way, is the best, direct link to the District of Columbia / Maryland border, but in its current configuration it is anything but ideal for trail users. With as many as eight traffic lanes, MD 704 is a divided highway with narrow to non-existent shoulders, high speed ramps to and from US-50 and the Capital Beltway, and traffic speeds that are typically 40 – 60 mph. While "Bikes May Use Full Lane" signs warn drivers to expect bicyclists on the roadway, the road itself is inhospitable, dangerous, and sadly fatal for even the most confident bicyclists. Without sidewalks or convenient alternatives, the message is clear "Bike Somewhere Else." Riding on the road should always be an option, but separated facilities are needed to accommodate and encourage trail traffic. This proposed 2.4 mile side path would provide both a place to walk and a far more welcoming alternative to riding with car traffic between the current end of the WB&A at Annapolis Road and Ardwick Ardmore Road. Once past US-50 and I-495, future trail extensions become possible.  Ultimately, it could connect to the New Carrollton Metro, the Anacostia Riverwalk Trail through Cheverly, and extended to the District along MD-704 to the Marvin Gaye Trail. Since 2008, WABA has urged the County to extend the WB&A Trail west along MD-704. Since 2011, building a trail along MD-704 has been at the top of the County's bike and pedestrians transportation funding priorities for Maryland State Highway Administration (SHA). Now, it seems that Maryland SHA is on board, and even offering funds for planning and construction. It is time to replace this dangerous bike route with a trail.
Remind elected officials that this is important
Priority lists are one thing, action is another. For three years, we have seen progress delayed because details need to be worked out between the County, SHA, and other local agencies. Now, with SHA committed and money on the table, it is time for elected officials to step up and do their part.  Now is not the time for the back burner. Last week, WABA sent a letter to County Executive Baker urging him to make this project a true priority, and today we ask that you do the same.  Click the link below to tell Executive Baker and Councilmember Andrewa Harrison to make improving bicycle access on MD-704 a reality.