And the Nominees Are…..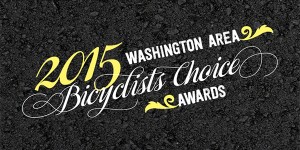 Note from July 2020: WABA has learned that the recipient of one of these awards, Martin DiCaro, sexually harassed a number of people in our community. Read our statement here.
The Nominees for the 2015 Bicyclists' Choice Awards have been revealed! The Nominees are:
Best New Bike Infrastructure in the District of Columbia in 2014:
Rhode Island Ave bridge (from Met Branch Trail to RI Ave Metro Station)
M Street protected bike lane
First Street NE protected bike lane
Best New Bike Infrastructure in Maryland in 2014:
MacArthur Boulevard repaving and bike path improvements
Woodglen Drive two-way protected bike lane in Montgomery County, MD
MARC train Bike Cars from DC to Baltimore
Prince George's County Trolley Trail in Riverdale and Hyattsville, MD
Best New Bike Infrastructure in Virginia in 2014:
South Hayes Street protected bike lanes in Pentagon City/Arlington, VA
The Bikeometer in Rosslyn
King Street bike lanes in Alexandria, VA
South Eads Street protected bike lanes in Crystal City/Arlington, VA
Trail along Arlington Boulevard from Rolfe St to 10th
Bike Friendliest Neighborhood or Business Improvement District
NoMa BID
Crystal City BID
Downtown DC BID
Arlington, VA
Bike Friendlies Bar, Restaurant or Coffee Shop
Swings Coffee Roasters, Downtown DC
Big Bear Café, Bloomingdale, DC
Java Shack, Arlington, VA
District Taco, various locations in DC and VA
Bike Friendliest Developer or Property Manger
Potomac Yards
PN Hoffman (The Wharf at SW Waterfront)
Nationals Park
Flats at 130 in NoMa
Best Bike Shop
Proteus Bicycles
BicycleSPACE
Bikenetic
Spokes Etc.
Bike Friendliest School
School Without Walls High School, DC
The Children's Garden preschool program in Arlington, VA
Washington & Lee High School, Arlington, VA
Bike Friendliest College or University
George Mason University
University of Maryland at College Park
George Washington University
Georgetown University
Best Shop Ride
BicycleSPACE Hills of Anacostia
Freshbikes Tuesday Night Ride
Proteus Pastry Ride
Bikenetic Sunday Ride
Best Use of Biking Data
Michael Schaede (MV Jantzten)'s Bikeshare Visualizions (like http://mvjantzen.com/tools/visualizer/)
Rosslyn Bikometer
Fastest Mode Map: (http://youarehere.cc/p/bestmode/washingtondc)
Freezing Saddles (http://freezingsaddles.com/)
Best Media Coverage of Biking
Gear Prudence for Washington City Paper
Martin DiCaro for WAMU
The Washington Post (multiple writers)
Best Social Ride
Kidical Mass (DC and Arlington)
Tweed Ride
DC Bike Party
BicycleSPACE's 7th Street Social
Biggest Advocacy Win of 2014
Bike lanes on King Street in Alexandria
Passage of Virginia's Three Foot Passing Law
Progress on Contributory Negligence in DC
Snow Removal on Arlington County Trails
Best Overall Trail or Bike Lane (anywhere in the region)
Mount Vernon Trail
15th Street protected bike lanes
Anacostia Tributary Trail System
W&OD Trail
Cast your vote for the winners here. Voting is intended for WABA Members. Not yet a member? Join today. Voting will close on Sunday, February 15th.
We hope you'll join us on February 20th at the Washington Area Bicyclists' Choice Awards where we'll announce the winners at the awards party. Anyone is welcome to attend the party and admission is free! Beer will be provided courtesy of Port City Brewing Company for a $5 donation. RSVP for the party here.