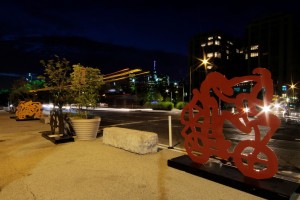 You're about to see more big, vibrant bikes in DC—and we don't mean Capital Bikeshare expansion.
For the month of March, the Reagan Building Plaza right next to the Pennsylvania Avenue bike lanes will house eighty colorful, bike-shaped metal sculptures.
They are designed to make us slow down and consider the environmental and community health impacts of bicycling, and they come to us from internationally renowned Mexican artist Gilberto Aceves Navarro.
Aceves Navarro is one of the most celebrated representatives of abstract expressionism in Mexico. He has received, among others, the National University Award (Premio Universidad Nacional, granted by the National Autonomous University of Mexico) in 1989, the National Prize for Arts and Sciences (Premio Nacional de Ciencias y Artes) in 2003 and the Medal for Merit in Fine Arts and Sciences (Medalla de Bellas Artes) in 2011. He has been invited on numerous occasions to show his work in Germany, Japan, Colombia and the United States.
In 2008, the first retrospective of his career featured over 400 of his works at the Palacio de Bellas Artes. Since the 1970s, Aceves Navarro has influenced generations of artists through his academic work in the ENAP and in his private studio. Now over 80, he still paints every day, confirming that "drawing is fundamental to my life."  Aceves Navarro's work has also been described as a precursor to figurative expressionism.
As a celebration of Aceves Navarro's 83rd birthday, 83 sculptures will be exhibited in DC for the public to enjoy during the month of March 2015. The complete urban exhibit is comprised by 250 bicycle sculptures in black, white, red and orange; colors that were used by the Mayan culture to symbolize the four cardinal points. Aceves Navarro created Las Bicicletas as a means of promoting, through art, the universal acknowledgement of bicycles as "vehicles of happiness and health," and in interviews has reflected on the important economic and transportation role bicycles filled during his youth in Mexico.
The message of this work aligns perfectly with WABA's mission, as we promote a city and region designed so that bikes can again play a major part in our transportation network. We also share Navarro's belief in the power of bikes to reduce carbon emissions, bring about happiness and enhance community health.
In the past, we have lacked the resources and ability to spread this message outside a small group of engaged bicyclists. Specifically, reaching out to the large regional community of Spanish speakers has been a challenge for us. It is a challenge we have been working to overcome, however, because we recognize the importance of ensuring that our work serves the diverse region we live in.
Regional statistics show us that the places with high concentrations of Spanish speakers also have some of the highest crash rates and least safe traffic conditions for bicyclists and pedestrians. Because this failure of design raises serious environmental justice concerns, we intend to enhance our advocacy efforts to improve bicycling conditions and safety in these parts of our region. We will also expand and improve our outreach and education programming to better serve Spanish speakers.
Over the past year, we have added Spanish-speaking staff to our outreach and education staff. We have conducted classes in Spanish in partnership with La Clínica del Pueblo and Bike Arlington. And we have developed Bike Ambassador materials intended to serve and engage Spanish speakers.
Now, we are looking for partners and funders interested in helping us to expand our regional bicycling community to be more inclusive of Spanish speakers, to address the environmental justice issues revealed in crash data, and to expand our programming to serve the region more comprehensively.
Thus, as we seek to bring attention to our fledgling Spanish-language program and our need for partners in the Spanish-speaking community, we are delighted to welcome to DC this amazing exhibit. Navarro's sculptures not only beautifully draw attention to the bicycle and its benefits to communities, but also unify us with others in our region who view bicycles as important to the city's health and happiness. We look forward to building partnerships that will enhance our Spanish-language capacities and better serve our entire region, and we invite all WABA members and supporters to join us at a cocktail reception and special viewing of the sculptures at the Mexican Cultural Institute on March 5th.
What: Cocktail Reception and Special Viewing of "Las Bicicletas" sculptures, with artist Gilberto Aceves Navarro
When: March 5th, 6pm to 8pm
Where: Mexican Cultural Institute, 2829 16th Street, NW, 20009