Public Open House for Arlington Memorial Circle Redesign on March 3rd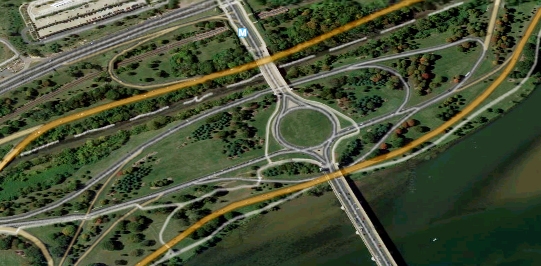 The National Park Service is hosting a public open house on March 3rd to present rough design ideas for Arlington Memorial Circle on the George Washington Memorial Parkway. The area has a long history of safety issues for Mount Vernon Trail users.
NPS started the planning process back in September
with an initial round of public open houses. NPS is undertaking a Transportation Plan and an Environmental Assessment to evaluate possible reconfiguration of the road, traffic circle and trail. The goal is to improve safety and the park experience for bicyclists, pedestrians and drivers, while minimizing the impact on the cultural and historical resources of the area. The planning process will take almost two years to complete. We do not expect a final decision document until the summer of 2016. More information about the public open house, the planning process and how to give your input are included the following NPS meeting announcement:
Public Open House Tuesday, March 3, 2015

5:00 pm to 8:00 pm

National Park Service National Capital Region 1100 Ohio Drive SW Washington DC 20242 We will present rough sketches of design concepts that were developed at a workshop that evaluated previous studies of the area, existing and projected traffic conditions including accident, speed and road/trail volumes, and the memorial character of the area. These concepts will be the foundation for the development of alternatives to be presented later in the year.  Please take this opportunity to offer your thoughts about this process and the ideas that were generated before we develop alternatives. Comments will be accepted at the open house or may be provided online through the NPS Planning Environment, and Public Comment (PEPC) website. On

March 3rd

the sketches will be posted to the project website and comments will be accepted from

March 3, 2015 to March 10, 2015

. You can access this site from the project website at: http://parkplanning.nps.gov/mctpea Navigate from the left side of the page to Document List, then 2015 Design Concepts, and Comment on Document.