Your $10 for 80+ Women & Bicycles Events in 2015
We're nearly halfway to our $10,000 fundraising goal!  
Click here
 to chip in your $10 today and help us grow our cycling sisterhood in 2015. Women & Bicycles is a uniquely diverse community that comes together to share skills. We bring out our friends and teach and learn and laugh and bike and eat and sometimes we can squeeze 7 people and their 7 bikes into a Metro elevator. And sometimes we can't.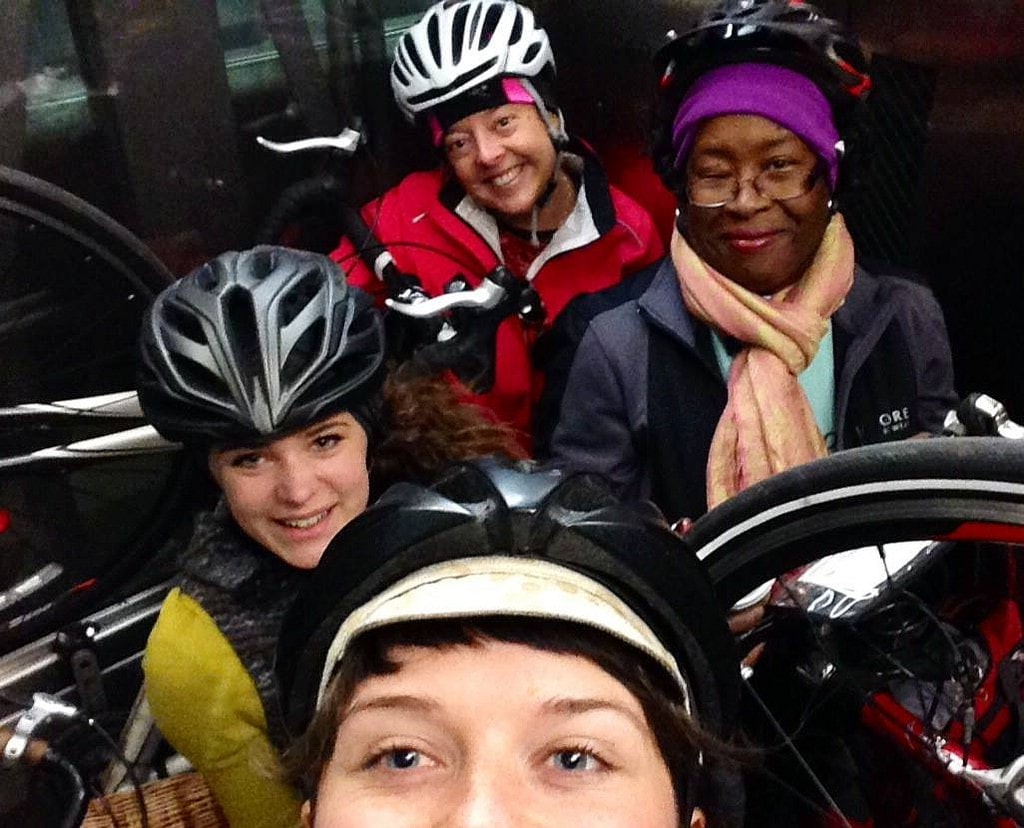 This skillsharing is ingrained in our culture. We're committed to sharing all the tips and tricks of all things bike-related we picked up along the way; from how to feel safe biking in heels,  and how to position yourself safely in an intersection, to testifying in front of council for safer streets. Our community is committed to deliberate skillsharing because we remember what it was like to learn the intricacies of biking in the city and we want to expedite that sometimes daunting process and make it fun. Because biking should be fun.
Click here
 to chip in your $10 today. Your financial support allows us to facilitate skillsharing through events. In 2014 we organized 72 events. Check out what we're creating in 2015!
Bike Advocacy Workshop
Coldest-est Day of the Year Ride
Brake Breakdown Workshop
Spinning Workshop
Fix-a-Flat Boot Camp
Women's History Ride
Mountain Bike Workshop
Women's Appreciation Ride
Beach Drive Picnic Ride
Bike to Work Day Pro and Protege Social
Bike From Work Party
Family Biking Workshop
Bike Touring Workshop
Intro DIY Bike Maintenance Workshop
Biking and Street Harassment Workshop
Bike Laws, Etiquette, and Need-to-Knows Workshop
Little Tips and Tricks of Biking Workshop
Ladies and Lady-Identified Bike Polo Night
DC United Ladies Night Ride
Arlington Loop Ride
Ice Cream and Cycletracks Ride
Women's Health, Mind, and Body Workshop
Farm Tour Ride
Multi-Modal Silver Line Ride
Winter Riding Workshop
Plus! Monthly storytelling hours, weekly coffee clubs, and 50+ Roll Model Dinner Parties!
Click here
 to chip in your $10 today and check out the slideshow of events we led, participated in or supported in 2014!
This slideshow requires JavaScript.
---
Women & Bicycles is proudly supported by
The Potomac Pedalers Touring Club
; hosts of the region's most robust all-level group ride calendar and bike tailgates. We're also supported by all our friends who donated through the Hains Point 100 ride.