The District Department of Transportation announced Friday that they will install protective rubber parking curbs along the Pennsylvania Ave NW bike lanes. Installation of the rubber parking stops began Friday morning and is expected to be completed within the next week (or two).
DDOT Director Leif Dormsjo and Associate Deputy for Policy Sam Zimbabwe made the announcement Friday morning at the Freedom Plaza Bike to Work Day Pit Stop. "Following extensive formal observation of the traffic patterns on this segment of Pennsylvania Avenue NW, the District Department of Transportation (DDOT) has determined that low-profile barriers are effective at discouraging drivers from making illegal U-turns" wrote in their Letter to WABA.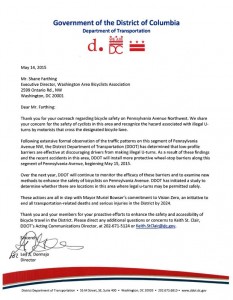 Four people biking on Pennsylvania Ave NW were struck by U-turning drivers since the beginning of April this year. There have been countless crashes since the installations of the bike lanes in 2010. Earlier this month, we counted 13 illegal U-turns across a single block of bike lanes. WABA kept up the pressure for the installation of a physical barrier and better enforcement to protect people biking on Pennsylvania Ave NW.
We would like to thank DDOT for hearing our calls for increased safety on Pennsylvania Ave NW. We know can officially call them the Pennsylvania Ave Protected Bike Lanes.