The DC Bike Ambassadors Are Back! And they brought backup!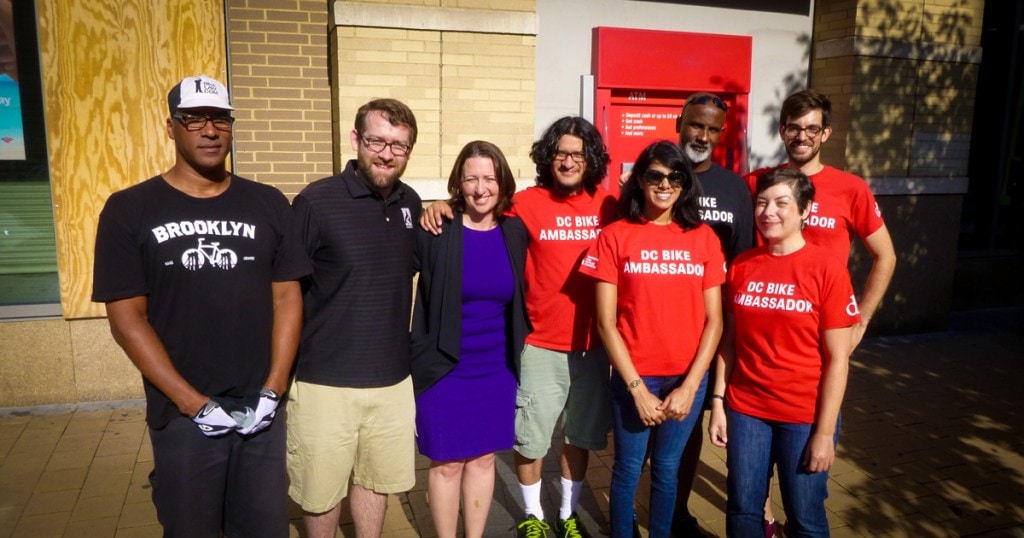 Early this morning DC Bike Ambassadors and Ward 1 Councilmember Brianne Nadeau teamed up to promote bicycle safety along the 14th St. NW corridor. The Bike Ambassador program was created by WABA & DDOT to encourage bicycling as an alternative form of transportation and recreation for DC residents.  Do not be alarmed if an Ambassador offers you a high five for riding your bike to work, or hands you a free bike light when you're riding at night in the dark. It's all a part of the plan to make DC the greatest bike town in the country.
If you would like to join this team of awesome and happy people, you're in luck
! The DC Bike Ambassadors are currently looking for enthusiastic volunteers. We're hosting an orientation on
Tuesday July 7th, 2015 at 6:00 pm
at the WABA headquarters (2599 Ontario Rd. NW). You can RSVP
here
. Food and drinks will be provided. Why become an Ambassador? 1) To advocate for better bicycling in your neighborhood. 2) To share your bicycling experience with people who feel uncomfortable with the idea of riding a bicycle in the city. 3) To make bike friends who like bicycling almost as much as you do.