Welcoming Renée Moore, Our New Women & Bicycles Coordinator!
Hello! I'm Renée Moore, the new coordinator for WABA's Women & Bicycles program, a community of 3,500 women working to inspire more women to bike, teach, lead, and advocate in our region. I get to do all the work to bring people together. Starting now I'm coordinating our monthly workshops, bike rides, social events, and our volunteer Roll Models; the women who volunteer to be bike mentors to friends in their networks.
Click here
if you're interested in becoming a Roll Model!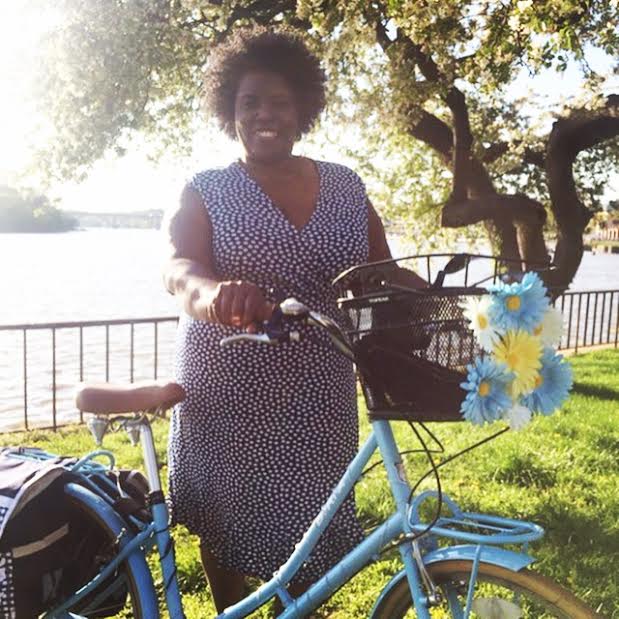 I'm so happy to be here and work to share the power of biking. It's very important to me. Riding my bike is my favorite activity and it all started here in D.C. I was able to get rid of a gym membership, avoid parking tickets, lose 37 pounds, and have fun all while getting places around the city. At 6 years old, I ran into a parked car on my bike and my grandfather took my bicycle away from me- forever. For years I would see others riding and think, "wow, that looks like so much fun." Finally, when I was 25, a guy asked me on a date and asked me what I wanted to do. I said I wanted to learn to ride a bike. He looked surprised and said cool ok! We went to Georgetown, rented a bike and within 2 hours I was riding along the waterfront all by myself. I was free and I loved it. I even signed up for a triathlon knowing I didn't know how to swim. I learned to swim and competed in a few tris and enjoyed it as well. I rode a lot but only in races and on trails. In fact, I only saw biking as a recreational activity. In 2008, I started Sassy Sisters Cycling on Meetup for women who wanted to get together and ride trails. It grew to over 1000 ladies in just 2 years! In 2013, I took my bicycling group to a workshop with Black Women Bike DC, a workshop on how to bike in the city during the winter. I sat in the back the entire time thinking, "ok, there is no way I am riding in DC streets; that is just crazy!" The four or five times we talked about why bicyclists fare best when they ride in the streets I sat there shaking my head. I decided to take the class again in the spring and this time we went on a ride after the workshop.  I found it wasn't nearly as bad as I thought. But in September, my mom had a stroke. Luckily, she caught it in time and I got her in George Washington Hospital. Unfortunately, the parking was $22! I told my mom that I was going to ride my bike to see her rather than spend $154 / week parking the car to come visit her. And I did! I fell in love with riding in DC. I was saving money. I was getting outside. It was therapeutic. A few months after my mom's stroke and riding in DC, I signed up to be a Women & Bicycles Roll Model. In order to get out and recruit mentees, I created a whole new bike group called Bicycling and the City on Meetup.  We get together to ride to events like kayaking, yoga, movies,  exhibits, and more! My goal was to show women that they can use bicycling as transportation and not just as recreation. We have over 100 members now! I'm excited to be organizing and representing Women & Bicycles, a community I've been learning from and supporting since I found my new passion! See you in the bike lanes, Renée
---
Women & Bicycles is proudly supported by The Potomac Pedalers Touring Club; hosts of the region's most robust all-level group ride calendar and bike tailgates, Chipotle our delicious dinner party sponsors, and we're supported by all our friends who donated through the Hains Point 100 ride.