Mile Markers coming to the Metropolitan Branch Trail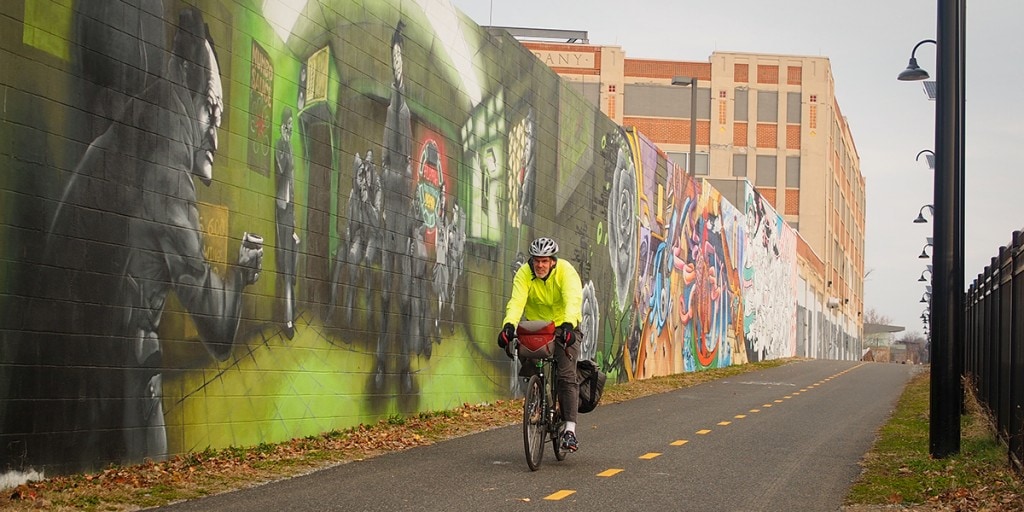 Over the past few weeks, a series of troubling incidents on the Metropolitan Branch Trail have again raised questions of user safety on this popular urban trail. Though counter data show an average of 1200 trail users each day since April, recent incidents and the law enforcement response to them have justifiably shaken the confidence of regular trail users. Two weeks ago, WABA sat down with leadership from District Department of Transportation (DDOT), Metropolitan Police Department (MPD), Office of Uniform Communication (OUC), and DC Homeland Security and Emergency Management Agency (HSEMA) to address these concerns. As a result, DDOT will install mile markers throughout the trail backed by changes to the 911 computer dispatch system to ensure a timely and direct law enforcement response to 911 calls.
Why is location so difficult?
When someone dials 911 to report an incident, pinpointing an accurate location is one of the first priorities for the dispatcher. For places on the street grid, this is easy. The dispatcher has a vast database of city addresses and landmarks at their fingertips for quick action to an emergency. Locations on trails are much more difficult to pinpoint because they do not easily map onto the street grid. To send help to the right place, the caller must have some idea of where they are and the dispatcher must have a record of that location. A caller may know they are on the Met Branch Trail, but have few useful landmarks to communicate where. On the other end, the 911 dispatcher's system requires a valid address or a selection from a limited number of hand coded points along the trail. In an emergency, even half a mile is too large a margin for error. Shortly after the MBT opened in 2010, DDOT installed street signs along the trail to help trail users orient themselves to the street grid. At the same time, the Office of Unified Communication, which runs the 911 call center and the location database it uses, identified a number of possible landmarks along the trail. Trail access points such as the ramp at M St and the cross streets of R St, T St, and 8
th
St. were coded into the 911 location database. In theory, a caller could identify any street crossing and the dispatcher would be able to work with that. What works in theory is failing in practice. Police and emergency responders cannot help if they are sent to the wrong place.
A solution is on the way
Two weeks ago, WABA helped convene a meeting with the leaders from the OUC, MPD and DDOT to walk through the 911 response issues we have seen and heard about. A quick review of recent cases showed that confusion on location, both by caller and dispatcher, is far too frequent. Trail users have too few reliable landmarks and dispatchers have an incomplete list of street intersections and access points. The solution: DDOT will install mile markers along the full length of the Met Branch Trail. In addition to giving trail users a clear message on where they are, every marker will be entered into OUC's location database. No longer will callers and dispatchers have to go back and for on which metro station is in the distance or which street is closest. Mile marker 1.7 on the Met Branch Trail will suffice. Signs are designed for every 1/10 of a mile and should start going up soon.
Trail safety remains a priority
Mile markers and better 911 response are crucial, long needed improvements for the Met Branch Trail. But, signs alone cannot erase the concerns of trail users and neighbors. We are encouraged by more frequent police presence on the trail and greater awareness of the trail's specific challenges by MPD's leadership. Law enforcement must be an integral part of ensuring the trail remains a safe place to be. In the coming months, the NoMa BID will be releasing its final report to conclude the Safety and Access study which began earlier this spring. It will include a number of recommendations for the short and medium term which could do a lot to make the MBT an even better, more popular community resource. More activities, more eyes, better neighborhood connections and, of course, more miles will ensure the MBT's continued success.