Celebrate Kidical MASSIVE, The Worldwide Celebration Of Family Biking!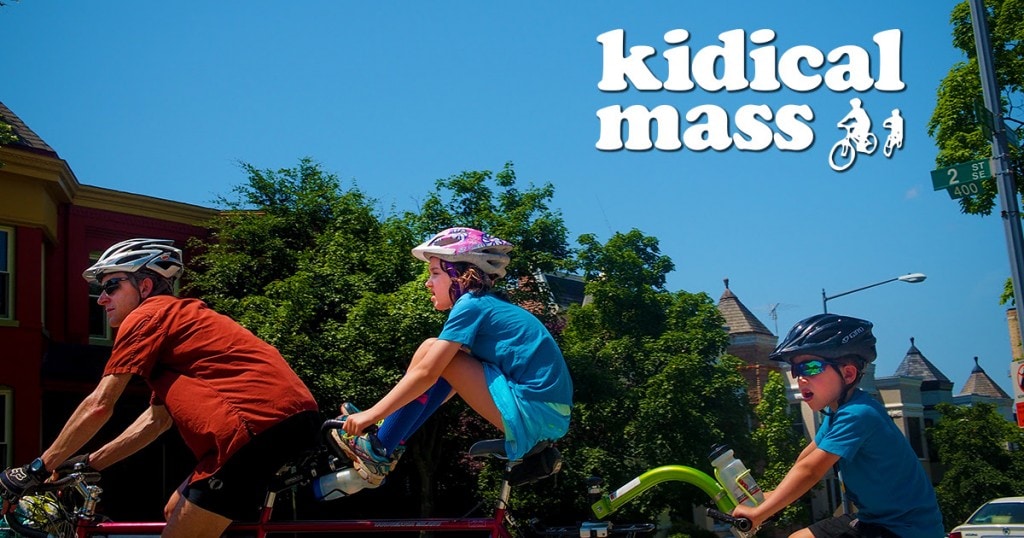 The international family biking movement is uniting on a single day to celebrate the joy of biking with children, and the DC area is leading the pack! On Saturday, September 19th, Kidical Mass groups from Hungary to California are hosting rides to demonstrate that biking with kids is easy, safe, healthy and FUN. With seven groups in the area, the Greater Washington region boasts the highest concentration of Kidical Mass groups in the world, a testament to the recent explosion of families bicycling for fun and transportation throughout the region. All seven groups will be involved in this MASSIVE event. In fact, Kidical MASSIVE will see the Washington region's family biking scene grow with the inaugural ride of Kidical Mass Prince George's County in College Park. Everyone is welcome on the rides – with or without children.
Four Ride Locations!
On Saturday, September 19 at 10am, rides will leave from:
Washington, D.C.:
Stanton Park, hosted by Kidical Mass DC
Arlington, VA:
LBJ Grove, hosted by Kidical Mass Arlington, Kidical Mass Alexandria, and Kidical Mass Falls Church
Gaithersburg, MD:
Main Street Pavilion, hosted by Bike Gaithersburg and Kidical Mass Rockville
College Park, MD;
Calvert Park, hosted by Kidical Mass Prince George's County
About Kidical Mass
Kidical Mass is a safe and FUN bike movement for kids, kids at heart, and families of all types. The first ride was held in April 2008 in Eugene, Oregon, and now dozens of communities throughout North America and beyond have rides. These inclusive, family friendly rides take short, flat, safe routes through their communities. Usually, rides start and end parks, ice cream shops, pools, events, or other fun spots. More than 30 American Kidical Mass groups plan to take part in this MASSIVE event, from Buffalo, New York to Walla Walla, Washington and Brownsville, Texas. Internationally, more than 35 groups plan to ride along, in six countries.