Better bike laws before the DC Council next week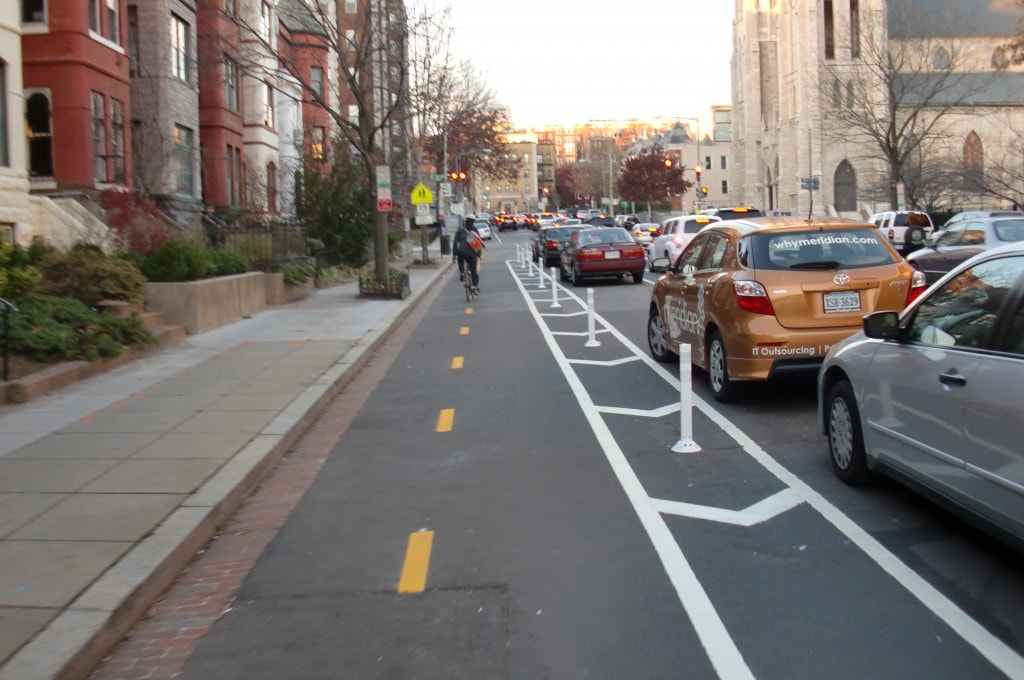 Three important pieces of legislation will be considered by the DC City Council Committee of Transportation and the Environment December 8th.
B21-0335, the Bicycle and Pedestrian Safety Act of 2015;
B21-0383, the Vision Zero Act of 2015; and
B21-0021, the Enhanced Penalties for Distracted Driving Amendment Act of 2015
Adoption of these bills would represent a major step forward in the District of Columbia's stated goal of eliminating traffic fatalities and serious injuries by the year 2024. These bills would make the streets of the District safer and friendlier for pedestrians, bicyclists, and drivers alike, enshrining the important principle that
streets are for people.
These bills would also enhance the quality of life for residents and visitors and improve the economy and environment of the District of Columbia.
Over the past year, we've worked hard to bring these bills to the table. Now we need you to show your Councilmembers on the transportation committee that you support these bills and the bold vision they represent. 
Here's a rundown of the key issues addressed by the bills.
(Believe it or not, this is the short version…)
Complete Streets Policy:
One of the most important sections of both the Bicycle and Pedestrian Safety Act and the Vision Zero Act relates to complete streets policies. Each bill lists the principles and purposes of the city's complete streets policy. The Vision Zero Act would "ensure the safety and convenience of all users of the transportation system, including pedestrians, bicyclists, users of mass transit, people with disabilities, the elderly, motorists, freight providers, and emergency responders." (p. 2, l. 19.) The Bicycle and Pedestrian Safety Act includes similar language. (p. 8, l. 183.) In order to actually change the status quo and create streets for people, the complete streets policy should elevate the safety and convenience of pedestrians, bicyclists, users of mass transit, people with disabilities, and the elderly over the convenience of motorists and freight providers. The Vision Zero Act would specifically require facilities for all users to be included in any construction, reconstruction, retrofit, repaving, and rehabilitation of a street. (p. 3, l. 16.) This means that DDOT would presumptively install bicycle lanes or separated cycle tracks any time it repaved a street that did not previously have such facilities. WABA strongly supports this provision and recommends its inclusion in any transportation safety legislation that is adopted.
Bicycle and Pedestrian Priority Areas:
The Bicycle and Pedestrian Safety Act would require DDOT to designate priority areas where the area is used heavily by bicyclists and pedestrians and the area has a high number of collisions. DDOT would be required to make improvements to traffic patterns and infrastructure in priority areas to enhance bicyclist and pedestrian safety. WABA strongly supports this program and recommends its inclusion in any transportation safety legislation that is adopted. We would like to see the bill revised to provide that DDOT shall actually implement, and not just recommend, safety changes to the priority areas.
Open Access to Data and Information:
WABA strongly supports open access to crash and road safety data. Accurate, complete, and accessible data will help the District accomplish many of the goals of its Vision Zero Initiative by:
Identifying high priority streets, intersections and neighborhoods for safety improvements;
Analyzing the effects of street design features;
Creating more accurate benchmarks for measuring the District's Vision Zero performance over time;
Enabling public health practitioners to develop a greater understanding of the relationship between crash variables and medical outcomes; and
Promoting transparency and ensuring the public's ready access to important safety information.
WABA has encouraged the Mayor's office, DDOT, the Metropolitan Police Department, the Department of Motor Vehicles and the City Council to modernize the District's crash data collection, integration and disclosure policies in three ways:
Updating the crash intake form of the Metropolitan Police Department ("MPD") to better align with national minimum standards so that the circumstances of a crash are captured accurately at the scene of the crash;
Integrating crash data with medical data so that the physical outcomes of people injured in a crash are reflected in the record of the crash; and
Disclosing crash data automatically, in a timely and intuitive manner.
The Bicycle and Pedestrian Safety Act would take important steps to further these goals by mandating DDOT to publish on its website monthly collision data. One factor required to be disclosed for each crash is the "apparent human factor or factors that contributed to the collision, including intoxication, driver inattention or distraction, speeding, failure to yield, and use of cell phones or other mobile devices." Unfortunately, it is WABA's experience that crashes can also be caused by a driver's intent, recklessness, or aggressive driving. Accordingly, this list should be expanded to include those potential contributing factors. The bill should require MPD to disclose the number and location of tickets issued to motor vehicle drivers for parking, idling, or driving in a bike lane. Like moving violations and unlike most parking violations, parking, idling, or driving in a bike lane creates a safety hazard. Cars and trucks obstructing bike lanes cause bicyclists to merge into car traffic, sometimes abruptly, and sometimes directly into the path of a speeding driver. This is an all-too-common experience for bicyclists in the District, one that discourages inexperienced or apprehensive riders from riding their bikes. A requirement to disclose the number of tickets issued for parking, idling, or driving in bike lanes would send an important message that enforcement is needed in this area, and would allow the City Council and the public to monitor levels of enforcement. Finally, DDOT and MPD crash data has often been released in static reports that do not enable the public to sort the underlying data to produce maps and charts. Therefore, all crash safety data subject to the disclosure provisions of the Bicycle and Pedestrian Safety Act should be disclosed in a format that is easy to read and should be downloadable by the public.
Stop as Yield:
The Bicycle and Pedestrian Safety Act would permit a bicyclist approaching a stop sign or steady red light to cautiously make a turn or proceed through the intersection without stopping if there are no vehicles with the right of way in or approaching the intersection.  WABA supports this provision because it would focus scarce traffic enforcement resources on road user behaviors that pose real risks to others – including distracted driving, driving under the influence, speeding, and failing to yield the right of way to pedestrians.
Curbing Dangerous Driving:
The three bills being considered would improve the safety of our streets by defining new moving violations, strengthening the enforcement of existing violations, and revising education programs.
Ignition Interlock Devices—The Vision Zero Act would require a person who has been convicted of certain drunk driving offenses to install an ignition interlock device. (p. 6, l. 15.) WABA supports this requirement, and believes it should be strengthened with an enforcement provision. Currently, the only consequence of failing to install a required ignition interlock device appears to be an extension of the mandatory term for which the device is required to be installed.
Drunk Driving Penalties—The Vision Zero Act would increase penalties for drunk driving offenses.   (p. 7, l. 21.) WABA supports these provisions.
For-Hire Vehicle Operator Training—The Bicycle and Pedestrian Safety Act would revise for-hire vehicle operating training and taxi operator training to add training in specific traffic concepts, including the rights and safety of pedestrians and bicyclists. (p. 12, l. 276.) WABA fully supports these revisions, which will help educate our city's most active and frequent drivers on the rights of the most vulnerable road users.
Repeat Offenders—The Bicycle and Pedestrian Safety Act would provide an escalating series of fines for repeat offenders of serious driving violations, including entering crosswalks, crossing through a red light, failing to yield the right of way, or parking or idling on a sidewalk or bike lane. (p. 14, l. 322.) WABA supports this provision, but believes it could be strengthened by clarifying that separate violations of two different offenses on the list would also trigger increased penalties.
Distracted Driving—The three bills being considered would address some of the flaws of the Distracted Driving Safety Act of 2004.First, the Vision Zero Act would amend the law to increase the penalty for distracted driving from a $100 fine with no points to a $500 fine plus two traffic points. (p. 9, l. 1.) The fine and points would be suspended upon the purchase of a hands-free accessory.Second, the Enhanced Penalties for Distracted Driving Amendment Act would amend the law by keeping the $100 base fine, but providing an escalating series of fines for repeated violations within an 18 month period, including a suspension of the driver's license for the third violation. (p. 2, l. 41.) Points would not be assessed for a single violation that did not contribute to a crash, but may be assessed for a subsequent violation that occurs within an 18 month period, regardless of whether the violations contributed to a crash. (p. 2, l. 55.) There would be no suspension of a fine or points for the purchase of a hands-free accessory.Third, the Bicycle and Pedestrian Safety Act would amend the law to further limit the situations in which a person could use a mobile telephone while operating a vehicle. (p. 15, l. 347.)WABA supports adopting a combination of all three bills. The base penalty for distracted driving should be increased to include higher fines and traffic points, because a $100 fine is far too low to be a deterrent. Moreover, drivers should not be free of punishment for purchasing a hands-free device, since research now shows that hands-free phone use is nearly as distracting as handheld phone use. Rather, an increase in the penalties applicable to repeat offenses should provide first-time violators with the incentive to comply with the law in the future. Finally, the scope of proscribed conduct should be expanded to include all situations where a driver is operating a motor vehicle other than an emergency.
Aggressive Driving—WABA supports the creation of an aggressive driving offense for drivers who commit three or more specified dangerous offenses at the same time or during a continuous period of driving one mile. (Bicycle and Pedestrian Safety Act, p. 15, l. 352.) Given the seriousness and number of offenses underlying an aggressive driving violation, we believe the proposed penalty of two traffic points and a $200 fine is too low and should be increased.
What's Missing:
Speeding Legislation—

Unfortunately, none of the bills being considered would lower the speed limit on the city's residential streets from 25 mph to 20 mph, despite widespread recognition that speeding is one of the most important determinants of traffic injuries and deaths.  Cities larger and more congested than the District of Columbia have adopted lower

speed limits. The evidence is clear that lower speed limits save lives:

A study by the AAA Foundation for Traffic Safety found that the risk of severe injury for a pedestrian hit at 23 mph is 25 percent. At 31 mph, the risk of severe injury increases to 50 percent. At 39 mph, the rate of severe injury jumps to 75 percent.
According to AAA research, a person is 74 times more likely to be killed if struck by a vehicle traveling at 30 mph than at 25 mph.WABA urges the City Council to pass legislation lowering the speed limit on residential streets to 20 mph.

No Right Turn on Red—Pedestrians are especially vulnerable to crashes by drivers making quick and dangerous right turns at red lights. Drivers are violating the pedestrians' right of way if they turn through an intersection with a pedestrian present. Often, drivers do not come to a full stop behind the stop bar or slow down before making a right turn on red. There should be an increased application of or a city-wide adoption of No Right Turn on Red.
Increased Fines for Parking in Bike Lanes—Parking, standing, or stopping in bike lanes causes a dangerous situation for bicyclists and drivers. When a bike lane is blocked, even temporarily, bicyclists are forced to merge into a regular traffic lane. This sudden need to merge out of a bike lane and into mixed traffic often creates a safety hazard for drivers and bicyclists.
It is illegal under District law to stop, stand, or park in a bike lane. The penalty is $65 per violation. In 2013, the District issued 4,200 tickets for unlawful parking and standing in bike lanes. The number of vehicles that continue to park in bike lanes demonstrates that this fine is clearly not a sufficient deterrent, especially for commercial delivery drivers.
The district should raise the penalty for illegal parking in bike lanes. Comparable cities have significantly higher fines than the District ($100 in San Francisco and New York; $115 in Chicago).
Sign up to testify at the hearing on Tuesday
.
Are you in? Email
abenjamin@dccouncil.us
or call (202) 724-8062 to get a place on the speaker's list. Then, email advocacy@waba.org to let us know you are coming
. We'll have talking points, resources, and staff available to help you write and deliver your testimony. You can also stop by the WABA office on Monday, Dec 7, between 4 pm and 7 pm to discuss in person.