DC Bike Ride Update: Great Music, Great Cause, Great Ride.
From our partners at DC Bike Ride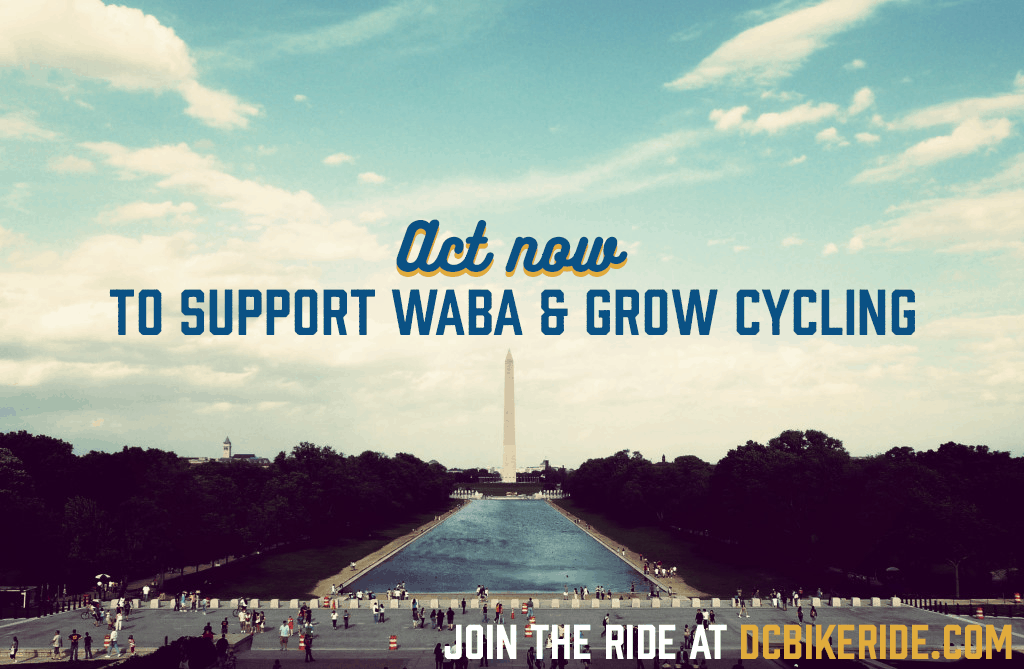 Act Now to Support WABA and Grow Cycling
We are about 6 weeks away from
DCBR
! Ride down Pennsylvania Avenue exclusively traffic free. That's right, you'll get the
city streets
(17 miles to be exact) all to yourselves.
DCBR's positive impact stretches beyond 17 miles. Together, we can showcase the region's biking landscape, make progress in improving street safety for all and demonstrate we are a vibrant part of the region's community.
DCBR was dreamed-up and planned in collaboration with WABA and other key partners. The ride is and will continue to be a mainstream platform for us to promote bicycling and create a healthy, more livable region. Join us – show your support by registering today!
Get your friends and family to join the cause. Introduce new folks to the two-wheel lifestyle. Ease skepticism and invite hesitant individuals to DCBR – help us break down barriers, unite the region and get as many people on bikes on May 22! And, don't forget, proceeds from DCBR will fund WABA's
Vision Zero Community outreach
.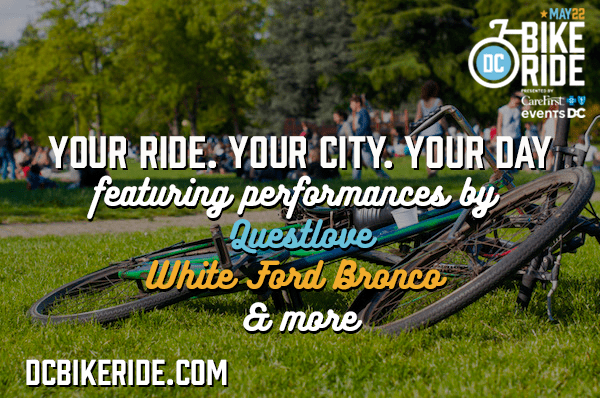 Star-Studded Finish Festival
After the ride, celebrate with us at the Finish Festival. Hear music from
Questlove
 (of a certain 
in-house band from The Tonight Show Starring Jimmy Fallon, among other things) and musical performances by
White Ford Bronco
 (get your 90's on) and more! Additionally, after the ride, join KIND and Grip the Mat for a post-ride yoga session. Explore the outdoors and get inspired at the REI Village, a backyard-style party area full of games, giveaways, and lots to discover.
Check out the full Finish Festival lineup
here
.
Not Convinced?
We'll let your fellow WABA members show you the way! Find out why other members have joined DCBR and why you should to. Read their stories
here
.
Want a Guaranteed First-Wave Start?
Our limited VIP package includes an official DCBR jersey, a post-ride lunch, and a guaranteed first wave start. Show your bicycling pride. For $195, be in the leading group of the ride and be the first to experience the unique views of the city on two wheels.
Standard ($60) and youth ($30 for ages 3-7) rates are also available. For group rate, please contact
hello@dcbikeride.com
.
Thousands have registered!
It's simple: the more participation in DCBR, the more WABA and we can help you in achieving your #bikegoals. Will you join thousands of DCBR riders to represent our community on May 22? Don't miss this opportunity.
Register now!