Do you think Bike Month is rad?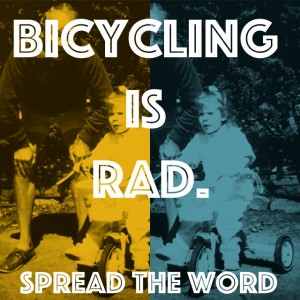 Yes, I think Bike Month is rad
Yeah it is. Bike Month is super rad. Can you lend a hand for just an hour and a half after work this week to help us hang some posters around town?
Yes, I'll help spread the word
WABA staff will be leading teams of volunteers in a few neighborhoods to hit all the business, restaurants, shops, bars, coffee spots, and stores that we can from 6:00-7:30pm to hang up posters and fliers on Wednesday May 4th and Thursday May 5th.
Sign up or learn more at waba.org/spreadtheword.
Want to earn a free WABA membership? If you volunteer with WABA three times in a year, you get a free membership! Want to earn a spot in WABA's famous 50 States Ride this September (the ride that everyone loves and that sells out in 36 hours)? We will randomly pick one volunteer who helps us out this Wed or Thurs to get a free registration!
Yes, I want free entry for WABA's 50 States Ride!
WABA hopes you have a very happy Bike Month. We'll see you out there in a bike lane or protected cycle track. Have any questions about volunteering? Email volunteer@waba.org.