Introducing Signal Financial Credit Union, a Leadership Level Business Member!
WABA's Business Members understand the importance of a community that bicycles. Their membership supports our advocacy, outreach and education. Our business members are committed to a sustainable future of our region and are adding their voice to a growing number of bicycle-friendly businesses supporting WABA. Today meet Signal Financial Credit Union.

Did you know that if you "Bike with WABA, you can Bank with Signal?"
We are happy to partner with Signal Financial Federal Credit Union, one of the largest Metro area credit unions since 1947. Just like physical fitness, financial fitness is a lifetime commitment that offers great long-term rewards. When your finances are in order, the rest of your life can seem manageable. On the other hand, when your finances are not secure, it can make life seem overwhelming. Signal Financial's priority is to help members reach their financial goals by providing them with the tools and information they need to make smart and successful financial decisions. The earlier you start the better! Signal Financial offers a wide rage of products, including checking and savings accounts, credit and debit cards, IRAs, money market accounts, share certificates, consumer and mortgage loans, mutual funds, and electronic services, such as online banking, remote deposit and mobile apps. With over $360 million in assets, Signal Financial serves over 26,000 members, encompassing more than 250 small to medium-sized select employer groups,
members of the Washington Area Bicyclist Association
, as well as individuals who live, work, worship or attend school in DC or in Prince George's County, MD (inside the beltway).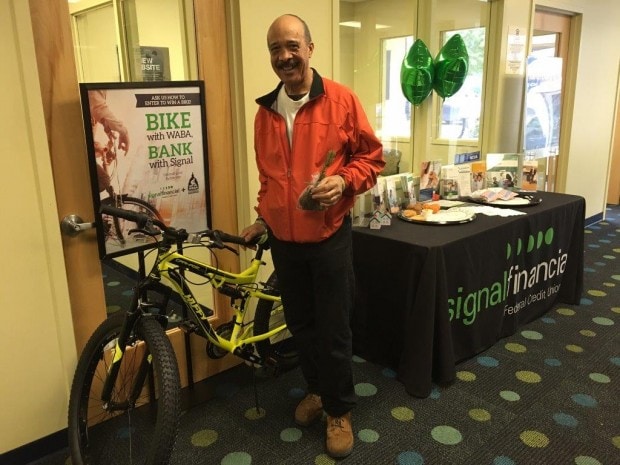 To show their support for our mission and bicyclists throughout the region,
Signal offers FREE credit union membership for all WABA members,
and they promote biking in and around all their branches. They have eight full-service branches, including three in DC: the Columbia Heights Branch at 1400 Irving St. NW, the Capitol Hill Branch at 1391 Pennsylvania Avenue SE, and the CityCenterDC Branch at 1201 New York Avenue NW. For a complete list, go to
www.sfonline.org
. Discover Signal today!
Do you own, work for, or patronize a business that is a good candidate for our
business membership
? For just $300 or $800 per year, you can show your support for a bike-friendly region and WABA's advocacy and get all sorts of perks, including your very own blog post!
 Details here
.