The MBT One Step Closer to Completion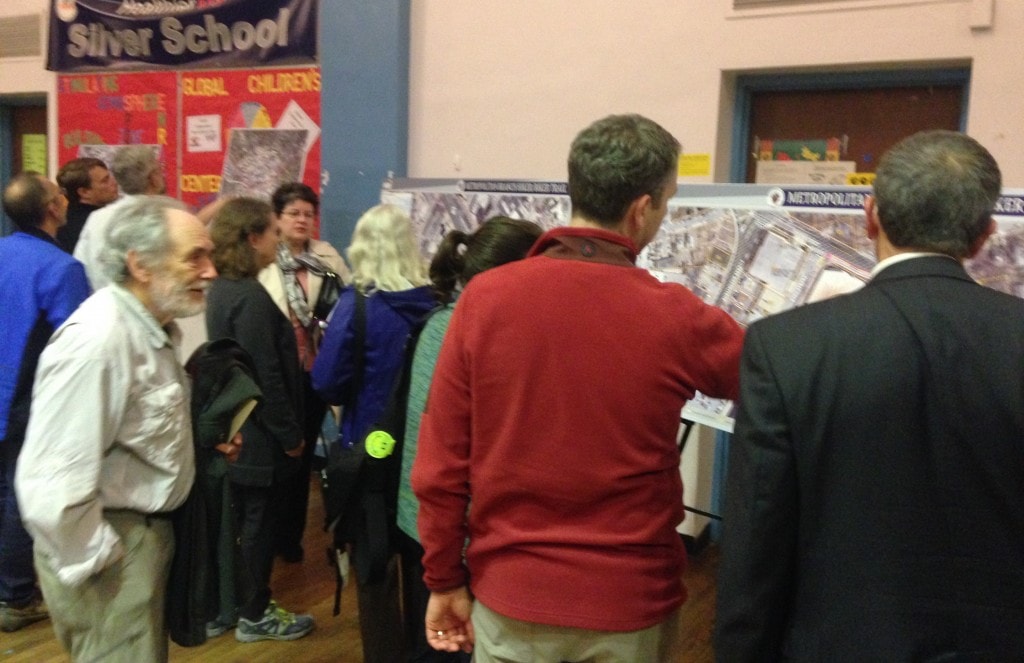 Last night, the Met Branch Trail got one step closer to completion.
Before beginning construction on the
 0.6 mile portion of the Met Branch Trail in Silver Spring, Maryland – t
he section across from the Montgomery College Campus on Fenton Street and King Street and along the CSXT Railroad to Ripley Street- Montgomery County was required to hold a public hearing, so area residents gathered on a misty Wednesday evening to learn more about the trail design and submit their feedback. When this segment is finished, the 1.1 mile Maryland portion of the Met Branch will be complete.
One highlight of the design is the 14-foot wide bridge that will allow trail users to cross Georgia Avenue far above the busy corridor. This above-grade crossing is an absolute necessity from a safety perspective, and Montgomery County sets the right precedent by ensuring that the bridge is an non-negotiable absolute.
One trail supporter analyzed the design as "95% Awesome." The five percent in question? The access around the B&O Train Station. Because of concerns from the station's owner, Maryland Preservation Inc. (MPI), the trail deviates from a direct route along the rail corridor and zig-zags on the edge of the property instead.
This zig-zag alignment seems manageable, and we thank the county for patience in working with MPI, and providing them multiple alignment options in an effort to move the project forward. From the trail user's perspective, it's not perfect, and certainly a straighter shot would be preferred, but the proposed alignment represents a compromise for which the county deserves a "thank you."
We were reminded by a few supporters that this trail will transform how we interact with our surroundings. Jeff Kohn recalled a bike ride he took with his young son to Bethesda, and he reports not being able to identify a safe way to get there. "I wouldn't try that again, I didn't feel safe," he said. "But once the trail is done, I'll ride it frequently."
Many in the room could relate to Michelle Terry's experience of fear for her own well-being on Fenton Street, having to share the road with fast traffic and large trucks. Her front tire was clipped by a car, and while she wasn't physically hurt, it scared her enough to keep her off her bike for a few days. And as a regular bike commuter, that means a lot. She's awaiting the trail because it means a safer commute. "Building the trail isn't just about recreation. It's about public safety," she said.
The construction bid will go out soon for Phase I, and construction is estimated to begin June 2016, with an estimated completion date of August 2016. Phase II will begin November 2017, the section west of Selim Road, which includes the bridge over Georgia Ave., will begin in November 2018 and phase completion is estimated for November 2019.
The record remains open until May 24 at 7 p.m. If you'd like to submit your comments to the record, email Gaila Lescinskiene at
gaila.lescinskiene@montgomerycountymd.gov
.