A chance to improve trail rules in Maryland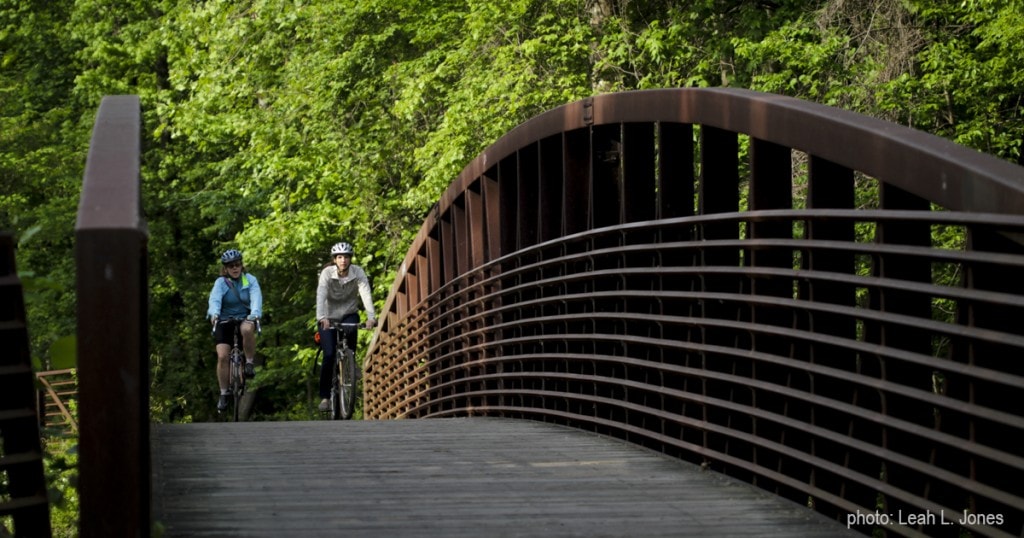 The Maryland-National Capital Park and Planning Commission (M-NCPPC) is updating its Park Rules and Regulations. This is good, and there are some good changes being proposed.
We need your help making sure the rules are updated to match the way people actually use the vast trail network that these rules govern. Specifically, we need to ensure that the update recognizes that these trails are an important part of our region's transportation network.
You can read the whole
discussion draft
, and a set of
policy alternatives
, On the M-NCPPC
website
, but here are the pertinent changes that need your support:
Policy Alternative 3

: Open all paved surface trails to transient bicycle traffic 24/7 and clarify that bicycles are permitted on Parkways 24/7.
Why we support it: Currently most Maryland park trails close at dark, which means that using them for commuting to a 9-5 job is technically not allowed during fall and winter.
At a commission meeting on Thursday, a compromise was proposed that would close trails from midnight to 5am. While this is an improvement, we don't think it goes far enough for a couple of reasons:
Equity

: curtailing hours like this excludes people working nights and early mornings—nurses, restaurant staff, folks in the construction and service industries—from a safe and convenient part of the transportation network. Trails are often the safest option for traveling by bike in Prince George's and Montgomery Counties and, like roads, they should be available at all times.

Metro

: WMATA has proposed permanently ending late night service. If trail access is curtailed after midnight, Without Metro or trail access, driving becomes the only transportation option between midnight and 5am. This puts more sleepy drivers on the road and restricts employment opportunities for folks who can't afford a car..
Policy Alternative 4

: Eliminate the across-the-board absolute speed limit for bicycling on Park Property.
Why we support it: Bicyclists are already required to ride at a speed that is reasonable and prudent for existing conditions or in some cases a posted speed limit. Since bicycles are rarely equipped with speedometers (and not required to be), imposing additional limits is not likely to deter reckless bicycling.
Policy Alternative 6

: Allow electric bicycles, as defined in the Maryland Transportation Article, to be regulated on Park Property in the same way as traditional bicycles.
Why we support it: This change updates the rules to allow electric-assist bikes, which are an important part of making transportational bicycling and family biking an option for more people.
Click here to send an email to the commission supporting these changes. Public comments are due by August 1st.
---
This is where things get a little complicated.
Policy Alternative 5 [which appears to be mistakenly listed as the first of two #6's in the document]:

attempts to clarify the obligations of bicycle riders to yield at trail intersections and implement signage and other traffic control devices.
This rule is a mess, and to be honest, we don't have a good solution for the problem that fits within the scope of these rules revisions.
Here's what should happen:
Unless an intersection has traffic lights or an all way stop, drivers should yield to trail users.
As a matter of policy, it is better to require the driver to yield to the vulnerable trail user. Drivers should be incentivized to drive safely, non-aggressively, and to be on the lookout for trail users at all crossings. The expectation that drivers must yield is key to creating a safety culture on the road, and key to embracing the fact that no loss of life on trails or roads is acceptable.
As written, the rule states the basically the opposite:
"Bicyclists must yield to all vehicular traffic if the intersection is not controlled by a sign or signal.
"
This is bad for a number of reasons: it promotes a driver-first culture, legalizes victim-blaming, and minimizes driver responsibility to follow the law and exercise due care. In a contributory negligence jurisdiction like Maryland, it can also can be a huge setback for vulnerable trail users harmed at intersections.
It would be convenient if this rule were just wrong and could be reversed, but it's not that simple. M-NCPPC has control over its trails, but often it does not have control over the roads they are crossing. This means that even if the rule were changed, M-NCPPC would not be able to compel the Maryland State Highway Administration or other agencies to design or build trail intersections that made it safe for bicyclists to exercise their right-of-way, even if they had it.
Compounding that, Maryland law, unlike Virginia and DC, is also vague about whether drivers are compelled to yield to people on bikes who are in crosswalks. The law needs to be clarified at the state level to include all vulnerable road and trail users.
Our email action to the commission states states that we oppose this rule, but understand that fixing it depends on larger statewide changes to law and transportation policy that are outside the scope of this rulemaking.
Click here to send an email to MNCPPC to make sure that trails stay open when people need them, that parents can haul their kids to school on them, and that no one gets ticketed for riding their bicycle at a reasonable speed.