Introducing Recess Outings, a WABA Business Member!
WABA's Business Members understand the importance of a community that bicycles. Their membership supports our advocacy, outreach and education. Our business members are committed to a sustainable future of our region and are adding their voice to a growing number of bicycle-friendly businesses supporting WABA. Today meet Recess Outings.

Recess Outings is a family-friendly bicycle outing company created for adults who want to bring their young children for a ride. Founder Kate Gallery has been biking with her two-year-old daughter for a little over a year. As an avid rider she sorely missed biking towards the end of her pregnancy, and during those first months adjusting to life with a newborn she was eager to get started and share her love for spending time outdoors on a bike with the new addition to the family. Biking together quickly proved to be as fun as hoped, and Kate started Recess Outings that summer when her daughter was one year old. Recess Outings has a small fleet of bikes with attachable child seats available so parents and young children can simply sign up and join them for a D.C. ride. Helmets, equipment, snacks and logistics are taken care of so they don't have to worry about any details beyond getting out the door. As a local, neighborhood business owner, Kate loves D.C. and scouts routes endlessly to make riding through the city as smooth as possible, taking advantage of the city's safe and convenient infrastructure and beautiful trails. Current ride offerings focus on recreationally exploring DC with rides like "Rollin' on the River" on the Anacostia and "To Market, to Market" from Eastern to Union Market and back, and getting parents comfortable biking with toddlers with their "Precious Cargo" rides. Recess Outings is also excited to announce the "That's My Girl!" ride series for tough little girls and the grownups who support them. These monthly rides will explore DC and pedal past several monuments and landmarks devoted to inspirational women. Learn more about Recess outings and the fantastic rides they offer at
recessoutings.com
.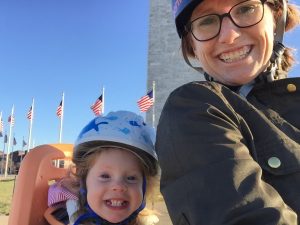 Do you own, work for, or patronize a business that is a good candidate for our
business membership
? For just $300 or $800 per year, you can show your support for a bike-friendly region and WABA's advocacy and get all sorts of perks, including your very own blog post!
 Details here
.