Community Meeting in Petworth about open streets project
WABA is excited to announce we received a grant from the DC Office of Planning to hold a creative placemaking project in DC's Petworth neighborhood. Office of Planning's initiative,
Crossing the Street
: Building DC's Inclusive Future through Creative Placemaking, funded by the Kresge Foundation, will promote community-building in neighborhoods that are experiencing rapid demographic and social change.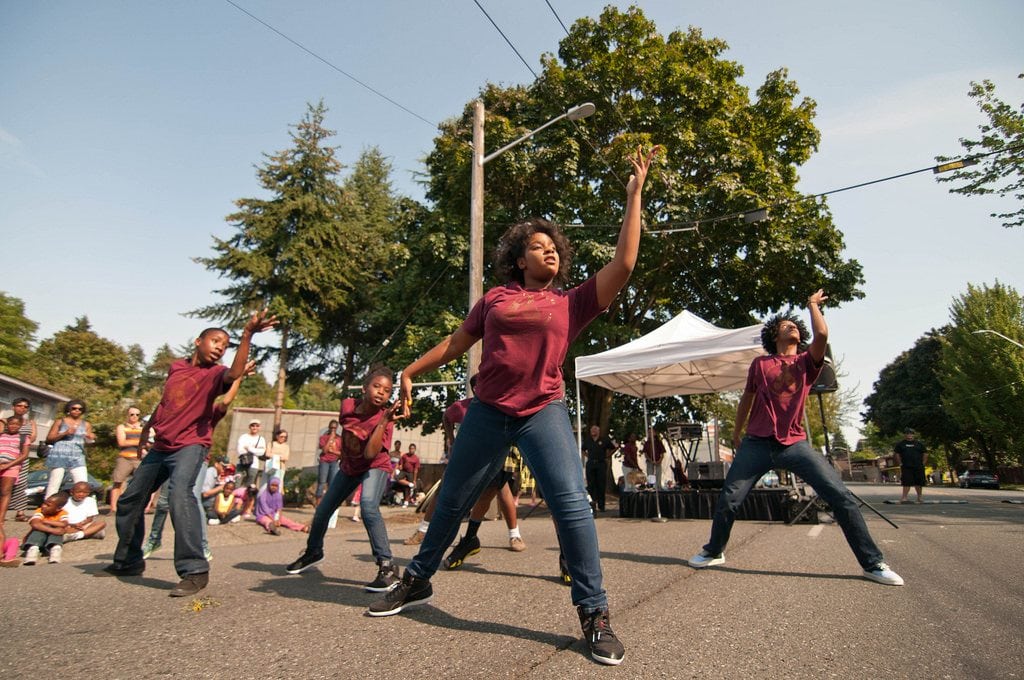 Together WABA and the Office of Planning, along with our grant partners,
Street Plans Collaborative
and Equitable Cities, will use this opportunity to bring open streets to DC.
What is open streets?
It's when you temporarily close a roadway to vehicle traffic and open it up to the people – so that the neighborhood and the city can walk, run, play, push strollers, bike, hulah hoop, hopscoth, dance, and have fun in the middle of the street.
Why are open streets projects awesome? 
Open streets encourage active transportation and community engagement. By opening up streets to people, this project will:
Create a safe and welcoming place for residents to come together and enjoy playing and moving through a car-free space
Serve DC residents and connect neighbors
Invest in the community
Draw national attention to DC's commitment to safe streets and active transportation
Encourage community members and decision makers to think about public space in a new way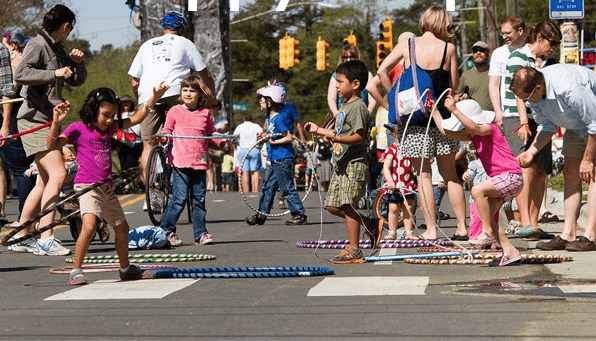 Petworth residents, DC community groups, and those interested in open streets  are invited to join us, DC Office of Planning, Street Plans, and Equitable Cities for a Community Meeting on Tuesday, August 16th to help envision what an open streets project in Petworth could look like. Meeting details are below:
Petworth Placemaking Project Community Meeting
When
: Tuesday, August 16th from 6:00-8:00pm
Where
: Petworth Library, downstairs large meeting room, 200 Kansas Ave NW, Washington, DC Anyone is welcome to come to the meeting to learn about open streets – the platform we are using for this community placemaking project – and share your ideas for what you would like to see as part of this Petworth community celebration. If you live in Petworth, we hope to see you, and if you have friends or coworkers  who live in Petworth, please share this community meeting with them.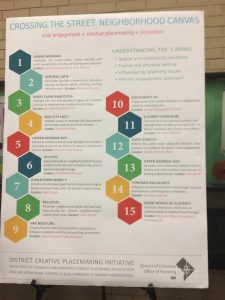 You can also find us at the weekly farmer's market, the Petworth Community Market, tomorrow morning from 9am-1pm! We'll be there asking the Petworth community what they would like to see as part of a community event, what makes Petworth special to them, and how they typically get around their neighborhood and utilize public spaces. Stop by and say hi! WABA has spent the past couple of months talking with community members, ANC commissioners, neighborhood organizers, and other Petworth stakeholders about this opportunity and what it means to hold an open streets event. Because of the length of time it takes to secure street closure permits and the necessary permissions from the Mayor's Special Event Task Group, we are planning for a Spring open streets event. Stay tuned for more information about our open streets campaign. And if you would like to receive regular (think: monthly) updates on our open streets efforts or get involved with volunteering for this effort,
sign up for our open streets working group list here
.