Bring your bike to work – EVERYDAY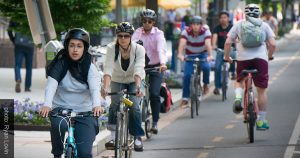 Are you tired of explaining to your co-workers how to bike to work? Let us have a try!
Bring an
Everyday Biking Seminar
to your workplace. We'll cover the basics of riding, preparing yourself and your bike, and what to do when you arrive at your destination. Then we'll bust some bike myths and answer burning bike questions, with the help of any resident office bike experts.
Topics include:
Finding a Bike that feels good

Bike Law, traffic law and bike etiquette

How to be safe & confident on the road

Tips on preparation for commuting

Tips on having fun while riding in
And if there's a specific topic you want to tackle, let us know! We're happy to adapt to your office's bike needs.
Our intent is to provide the facts and answer all of the questions so your colleagues will be inspired to hop on two wheels and experience all of the joy & benefits of biking.
To learn more about the
Everyday Biking Seminar
please 
click here
.
You can request an
Everyday Biking Seminar
by completing 
this form
.