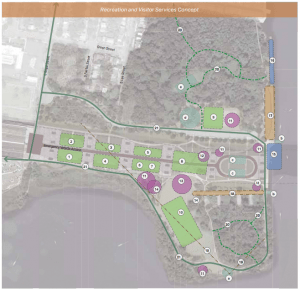 The George Washington Memorial Parkway (GWMP), which is part of National Park Service (NPS) is in the process of reviewing Jones Point Park in Alexandria, VA. Specifically, GWMP is looking to redesign the paved space under the Woodrow Wilson bridge to accommodate and encourage more recreational uses. The space under the bridge was originally intended for parked cars, but security changes following September 11th, 2001 made that no longer a possibility.  Since then, the space has been underutilized while the rest of the park actively encourages recreation.
In our formal comments to NPS, WABA has requested that a portion of the paved space under the bridge be turned into a "traffic garden" for bicycle education classes. WABA also recommended that the flexible space designated for a bike safety course in the plan be expanded.
The Jones Park Park Recreation plan also proposes to re-route the Mount Vernon trail around the park instead of straight through it. WABA recommended retaining the Mount Vernon Trail alignment through the park to facilitate biking to park amenities and restrooms, while encouraging through-bicyclists to utilize the new routing. We noted that if new routing or re-routing is put in place, the new trail must be 100% off-street, multi-use, and not require any mixing with motor vehicles. Finally, if bicyclists are going to be discouraged from riding through the park past the restrooms, then in-pavement solutions i.e. differentiated pavers or stencils, should be utilized rather than bollards or barriers.
Public comments on the project are being accepted through September 23rd. The proposed recreation plan and planning documents can be accessed by clicking here.  To submit comments of your own regarding the plan, please click here.