Unlimited s'mores, miles of gravel, and this super sweet limited edition jersey
You can support better bicycling in just 184.5 miles while enjoying unlimited s'mores and trail snacks, miles and miles of stress-free and car-free gravel riding with scenic river views and vistas, and a new super sweet limited edition
WABA in Wild
adventure jersey!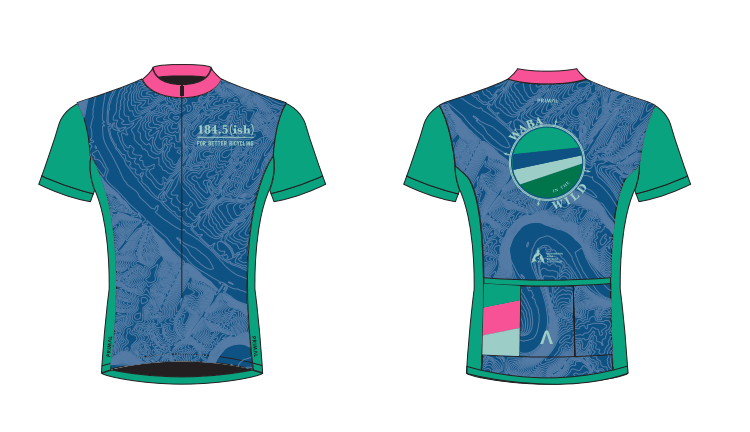 Be Part of this Epic Adventure
The registration deadline for signing up for WABA in the Wild is September 23rd (that's tomorrow) at Midnight.
Register today to save your spot!
The Details
WABA in the Wild
is a fully supported peer-to-peer fundraising ride that raises support for WABA's advocacy and outreach efforts in the DC region. The tour will take place on the Chesapeak and Ohio Canal Towpath from Friday, October 7th to Monday, October 11th. WABA will bus riders and all their stuff (all you need to bring is your bicycle, tent, sleeping bag, and a couple changes of clothes) to Cumberland, MD on Friday. We'll camp in Cumberland on Friday night, Hancock, MD on Saturday night, and bunk or camp at the Harper's Ferry Hostel on Sunday night. We'll spend three days (Sat, Sun, Mon) bicycling downhill on the canal towpath going about 60-65 miles each day, with plenty of snack breaks in between the miles. It is a peer-to-peer fundraising ride, so every dollar you raise goes to support WABA – that means that if we get 35 riders to join us for WABA in the Wild, over $40,000 will go directly to support WABA's efforts to make bicycling better.
We Will Downright Pamper You
We know bike touring, camping, and biking 65 miles a day can be a bit intimidating. That's why we want to make it as easy as possible for you to check this off your bucket list. If you've never biked the entire C&O Canal – or even if you have and you've been wanting to do it again – this is your chance to do it.
We plan all the super boring and annoying logistics for you so all you have to do is show up
We arrange transportation to the tour start in Cumberland
We build the fire and cook delicious campfire meals for you
We load up and carry and your camping gear and luggage to each campsite
We take you out for lunch and dinner one day in Canal Towns along the towpath
We have a SAG vehicle ready to meet you at a trail access point just in case
We bring the bug spray, lanterns, candles, s'mores, music, clotheslines, evening story times, camp chairs  – and if it's muddy we'll even wipe down your bike for you