Vision Zero FAQ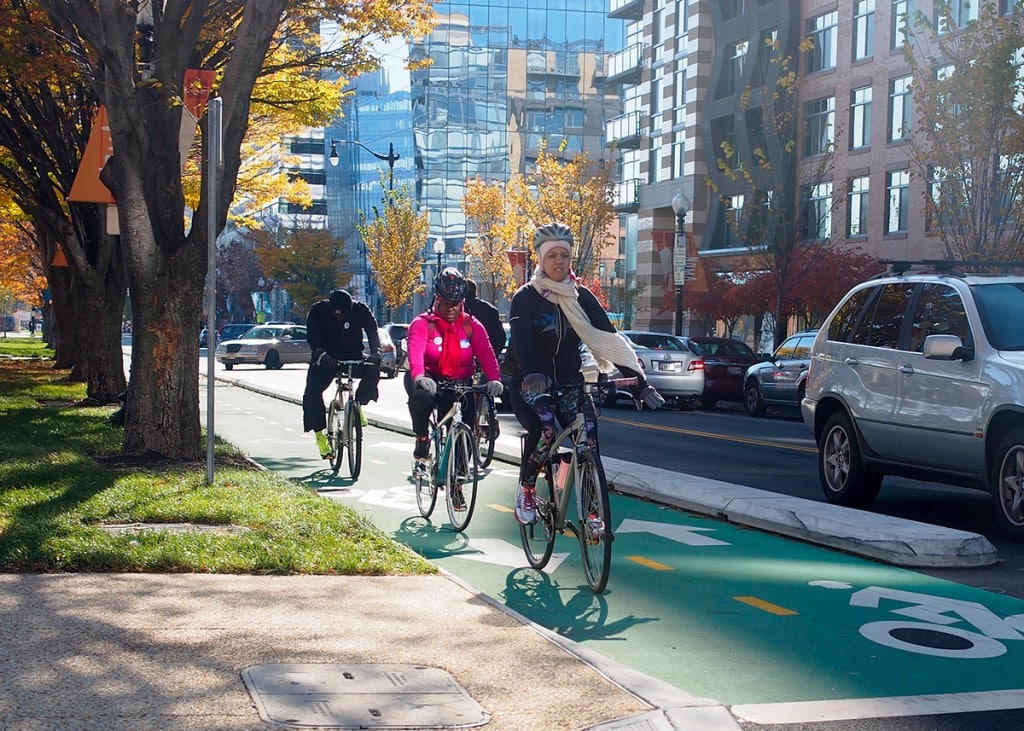 Last year, Mayor Bowser committed to Vision Zero, an initiative to eliminate all traffic fatalities by 2024. Between 2010 and 2014, 67 drivers and passengers, 57 pedestrians and 7 bicyclists were killed in traffic related collisions. That's 131 lives lost because of decisions we as a society make about what to value in road design.
Vision Zero is a paradigm shift to our approach to traffic safety that has at its core the idea that any loss of life on our roads is unacceptable. As the new Vision Zero Community Organizer at WABA, my job is to to make  sure Vision Zero succeeds. It seems like a huge goal but one I know we can reach. To get started, let's talk about what Vision Zero is, how it will impact your life and what you can do to help make zero traffic fatalities a reality in the Washington DC region.
So let's start with the basics-
What is Vision Zero?
Vision Zero is a city-wide approach to eliminating all traffic fatalities and serious injuries by 2024 for all people using our roadways. The core principle of Vision Zero is that traffic fatalities and injuries are preventable. Crashes are result of human behavior and poor roadway designs.
How Does Vision Zero Work?
To change the fact that people die on our roads every day, we will have to tackle road safety from a variety of angles, sometimes referred to as "the four E's" —
education, engineering, enforcement,
and the
evaluation
of data. We need more public education about how to behave on the roads to keep from harming others, better roadway designs to minimize conflicts between road users, like people on bicycles, in cars, on foot, and using public transit, better enforcement of traffic laws and using crash data to help prioritize which areas most urgently require design and enforcement interventions to decrease crashes.
Where did the Vision Zero idea originate?
Vision Zero was adopted as national policy in Sweden in 1997. The philosophy of Vision Zero is "no loss of life is acceptable".  The Vision Zero approach is that humans make mistakes. Our roadways need to keep us moving but those roads should protect us at every turn.
How would implementing Vision Zero change the city's streets?
Some examples of changes that make streets safer are known as "traffic calming"— measures like removing or narrowing road lanes to send a signal that cars should be traveling at slower speeds. Other interventions include lowered speed limits and speed humps. Sidewalk repairs or additions, protected crosswalks, and pedestrian refuges to make it safer for pedestrians and those in wheelchairs to get around, or protected bike lanes that separate bicycles from car traffic.
Why lower speed limits? Won't this make traffic worse?
No. Traffic is determined by traffic signals, cars turning and congestion. With lowered speed limits, drivers have a better field of vision to stop for pedestrians and bicyclists thus lowering the number of serious injuries and fatalities from collisions.
How will WABA be involved ?
We will be hosting workshops and street safety audits and asking for people like you in the community to help identify  areas that are unsafe for our most vulnerable citizens- those walking, biking, elderly, children, or disabled. The WABA community will work with DC Department of Transportation and other agencies assigned to do their part to achieve Vision Zero to create safer roadways and sidewalks for travelers.
How many traffic fatalities are there in the DC?
There are 20-25 fatalities due to traffic deaths every year in DC.  About half of those killed are drivers, about half are pedestrians and about 2 are bicyclists.
I want to make streets safer for everyone in DC. How can I help?
We will be hosting a number of workshops and other opportunities throughout the city over the next 12 months. The first one will be at Dorothy Height Library on Benning Rd NE on November 20th at 1pm. We will be discussing Vision Zero, traffic safety, participating in a walking safety audit to explore an intersection that could be safer for DC travelers and making suggestions on how to make the roadway less stressful for all. Come join us and provide your input. Or you can contact me at
renee.moore@waba.org