Yep, Over 2,000 Kids In 6 Months
Thank you for everything you do for WABA: the letter-writing, the petitions, testifying and staying in the know.  Thank you for all your time and financial contributions over the years.
Your support is paying off.
On Tuesday we sent out our big wins in 2016 (
link
), your big wins, a list of a dozen updates on everything from 100 miles of new bike trails you'll get to enjoy to the first protected bike lane in Silver Spring. Today we want to highlight the outreach and education metrics that shape your experiences on the road.
And today we ask you to contribute to WABA this fall so that, in addition to infrastructure wins, we can continue our relentless work for better bicycling.
 We want to tell you about the award-winning programs you support (some of which have been replicated across the country and world). They are built around our three shared goals:
Inspire more people to give biking a try.
Inform all road-users about vital rules and roadway etiquette.
Empower more people to create and grow biking in their communities.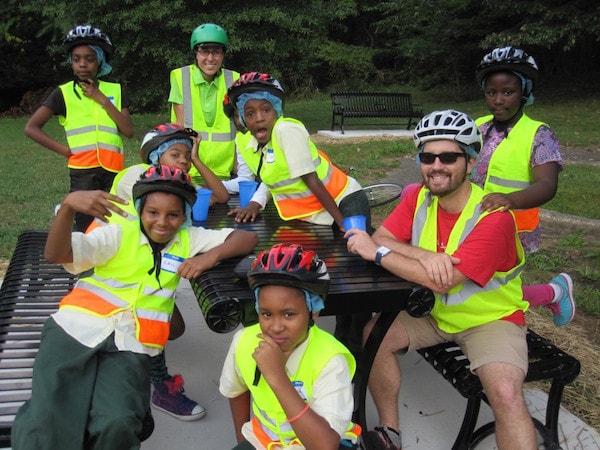 Randle Highlands Elementary Bike Club
Your tax-deductible contributions to WABA are shaping the culture on your roads, creating more bike advocates in your communities, and introducing new generations to biking. Your donations fuel the programs, fill classes, fund the outreach, and foster the community that drives bicycle advocacy.
Here's all the programming your contributions support:
Youth and family education: training up new generations in schools, workshops and rodeos, and our summer Bike Camp!
Adult education: teaching people how to bike confidently, legally, and respectfully through City Cycling classes, Adult Learn to Ride classes, and workplace Everyday Biking Seminars,
The DC Bike Ambassador and PAL Ambassadors: empowering volunteers to lead community-driven outreach,
Women & Bicycles: inspiring more women to bike, teach, engineer, plan, and advocate within the bike movement,
And the Trail Rangers: spreading care and caring for DC trails.
2016 Education By The Numbers
Adults taught how to ride a bicycle: 288
People taught to ride confidently, legally, and respectfully: 457
People taught how to bike to work: 330
Hours of teaching by WABA instructors: 541
Bike Camp! miles ridden by campers: 122
Kids taught to bike better: 2,145
Bike puns: [number redacted]

2016 Outreach By The Numbers:
Volunteer Ambassadors: 225
Miles ridden pulling our Bike PSA trailers: 284
Bags of debris collected by Trail Rangers: 223
Bells distributed on the trails: 100
Coffee distributed on the trails: 1,920 ounces
Days of the week the Rangers are out on trails: 7
One-on-one conversations at community events, fairs, and expos: 9,140 (yep, we count them!)

If you've already donated, thank you! Your bike rides improve when WABA succeeds. And we succeed because people like you choose to contribute your time and your hard-earned money to better bicycling.
Please consider a mid-year tax-deductible donation to the persistent and critical action that will lead to a region that truly prioritizes bicycling.