It's our annual fall membership drive! We disrupt our regularly scheduled updates to urge you to join or renew with WABA today.
Join or renew with WABA this week to Vote for the Tote and get your very own WABA messenger-style tote bag!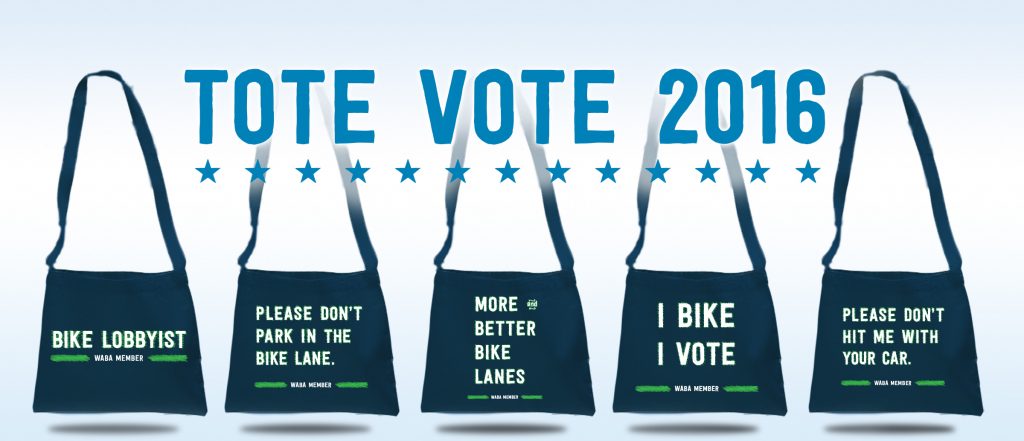 We aren't shy about enumerating your membership benefits. First and most importantly your financial support directly supports our work to improve your bike experience.  Our staff is deeply knowledgeable, efficient, and passionate about our mission, so your membership dollars do a lot of hard work to make this region better!
But there are more concrete WABA benefits beyond concrete infrastructure:
Membership Benefits!
Click here

to view a list of area bike shops that provide discounts on parts, accessories, or bikes if you present your WABA membership card.

Gain access to WABA's ride calendar, featuring regional favorites like the 50 States Ride & 13 Colonies Ride, the Vasa Ride, and the upcoming

Cider Ride

.

Reserve one of our complimentary Bike Boxes when you travel with your bike.
Membership Perks!
Better Backs Athletic & Physical Therapy

: 15% off all products and services.

Bike and Roll:

$10 off bike rentals and $10 off bike tours.

Learn More

Bike Escapades:

WABA members receive $150 off their bike touring trips (with an additional $150 donated to WABA).

Learn More

Czech Active Tours:

Save $50 off a bike rental at any of their European Bike Tours when you mention WABA. They will donate an additional $50 to WABA.

Learn More

Rentabikenow.com

: Save $5 every time you reserve a bike at one of their 250+ locations. Contact membership@waba.org for discount code.

Learn More

Annie's Ace Hardware:

5% off one item under $50.

Learn more

Brighter Days Collective Dog Walking & Pet Sitting:

Get the cost of your WABA membership deducted from your dog walking bill!

Learn More

Car2Go:

Free Car2Go Membership (Usually $35) + $10 of drive time credit. Contact membership@waba.org for discount code.

Learn more

Embody Pure Fitness:

15% discount on any personal training package and a free fitness evaluation.

Learn more

Flow Yoga:

15% discount on all classes!

Learn More

Gottaswing:

20% off beginner classes for first-time students at DC locations.

Learn more

Island Press:

30% off all titles.

Contact membership@waba.org for discount code.

Learn more

Lunar Massage:

Free membership ($40 savings) at all Lunar Massage locations.

Learn more

Momentum Magazine:

Free digital subscription. Email membership@waba.org for details.

Results Gym:

20% the monthly rate of chosen membership and discounted enrollment fee with WABA Member card.

Learn More

Tranquil Space:

Unlimited 15% discounts on 1,6, or 10 class pass purchases at either Tranquil Space location (Dupont or Arlington).

Learn more

Up the Creek Rentals:

10% off kayak rentals.  

Learn more

YMCA:

Enrollment fee is reduced ($50) and 10% off monthly dues at all DC, MD, and VA locations.

Discount does not apply at the 14th & W NW location.

Learn More

ZipCar:

Half off your first-year annual fee (making it just $30)! Email membership@waba.org for discount code.