DC's 15th St Protected Bike Lane is 400 Ft Longer, 100% Better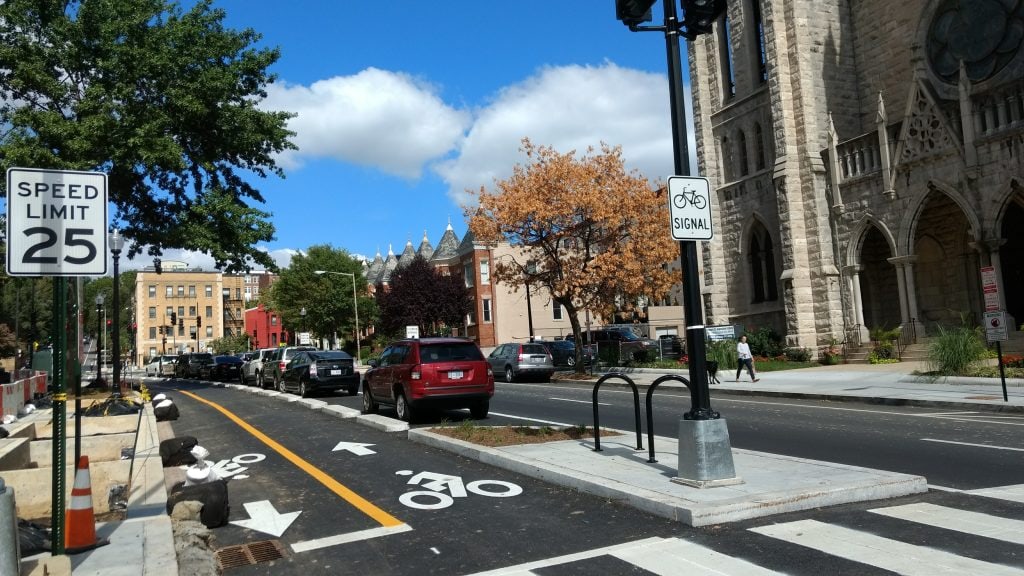 Since last summer, construction crews have been busy transforming a complicated intersection in Northwest DC from one of the most crash-prone in the city to a model example of a complete street. Earlier this month, crews finished up work on the large block where 15th St, W St, New Hampshire Ave, and Florida Ave NW meet near Malcolm X Park. The result is a far more intuitive and safe experience for people biking, walking, and driving! In 2009, a driver turning right onto W St
struck and killed a pedestrian
crossing 15th St. In response, the District Department of Transportation (DDOT) installed temporary curbs and flex-posts to reduce speeds through the intersection while a permanent solution moved through design. DDOT shared initial designs in 2012 and
began construction in 2015
. Now, seven years after the fatal crash, we have that permanent solution in place. While it is frustrating to see crucial safety fixes for streets like
Florida Ave NE
,
Maryland Ave NE
, 
C St. NE
and this one take so long to implement, it is encouraging to know that the final results are worthy of praise. The District must find a way to accelerate timelines for those most needed projects and has plenty of excellent examples to follow from peer cities. But let's spend a minute to appreciate this project.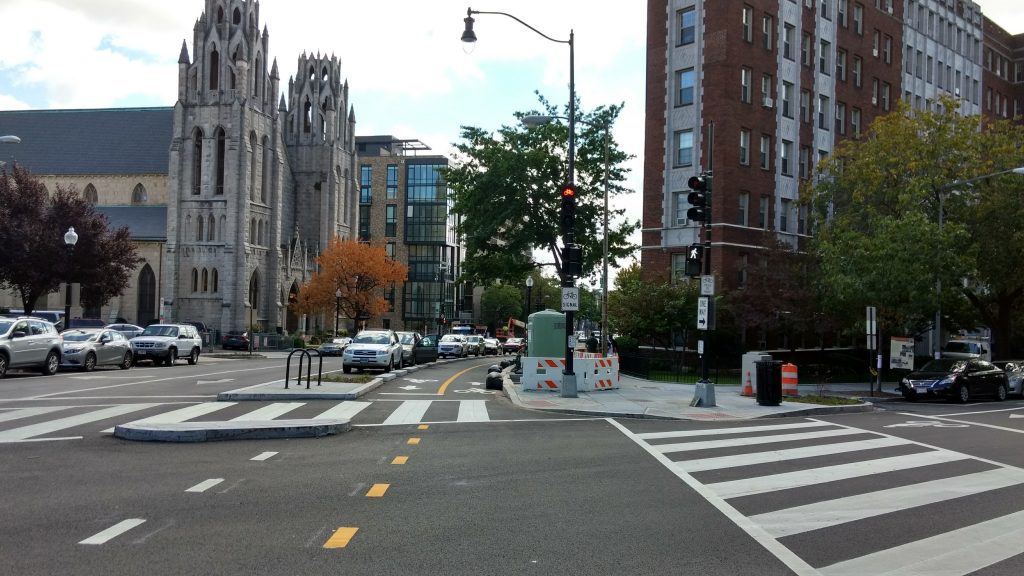 The new design removes a dangerous high-speed slip lane, drastically reduces the width of the intersection to slow vehicle speeds, and reclaims hundreds of square feet of open pavement for green space, walking and biking. People on bikes can enjoy an extension of the 15th St protected bike lane (now with curbs), bike lanes striped through the intersection, bike specific signals, bike boxes for easy turning from W and Florida, and bike parking. People walking can luxuriate in wider sidewalks, dramatically shorter road crossings, slower vehicle speeds and extensive landscaping in bioswales (still in progress). Drivers will notice more predictable interactions with bicyclists, pedestrians, and other drivers. It took a long time to come, but this is public space done right. What's Next? Though major construction is complete, and the road, bike lanes, and sidewalks are open to the traveling public, crews will continue planting trees and other water-thirsty greenery into the new bioswales to help manage stormwater from the road. Two more important developments will help fully complete this project.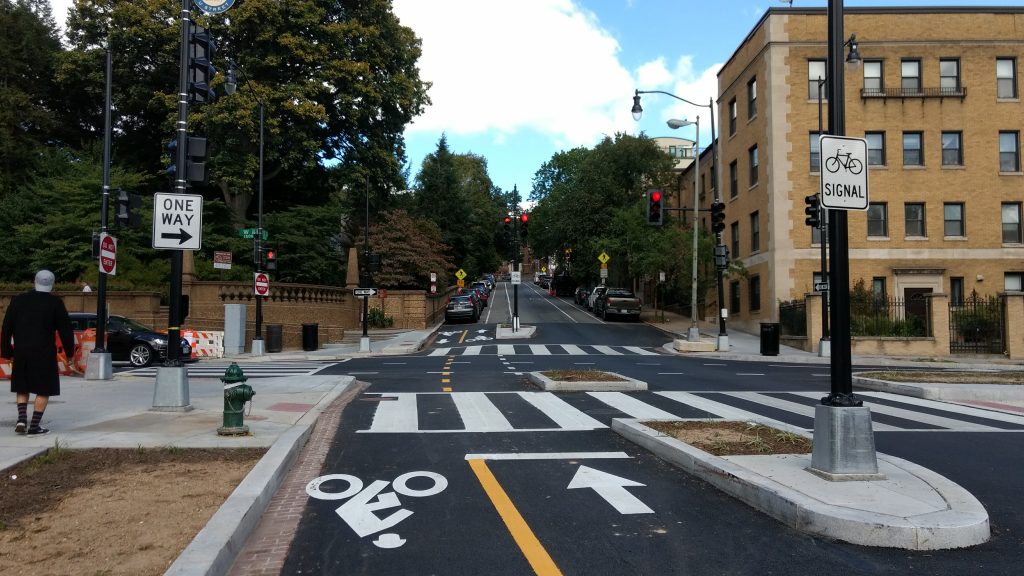 That hill deserves a protected bike lane: Just glance at this photo and the plan is obvious. In fact, DDOT plans to extend the protected bike lane up the hill to Euclid St. Fortunately, there is plenty of space to simply shift parking on the left side of the road and combine the two existing bike lanes against the left curb.
Install a Bikeshare dock: DDOT planned to add a new Capital Bikeshare dock all along. Tonight, Oct 6, the area's Advisory Neighborhood Commission (ANC1B) will decide if it supports this plan. If you live in the neighborhood, please ask your commissioner to support the plan or attend the meeting. Learn how here.