Take a trail!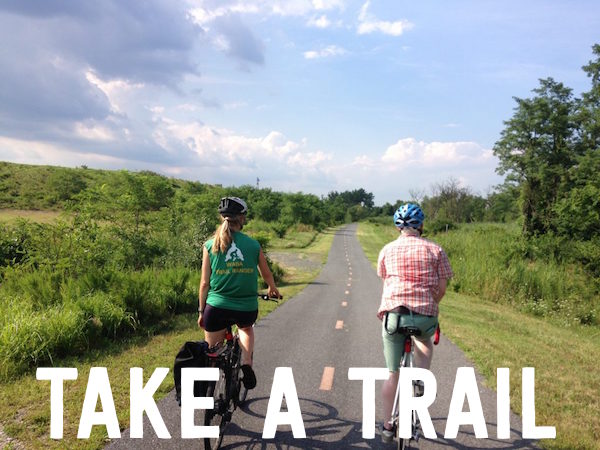 Bike to Work Day
is a great opportunity to add a few extra beautiful, safe miles to your commute on a local trail. Or if this is your first time biking to work in a while (or ever?!), check out
Google Maps biking directions or a paper bike map
to see if your safest commute takes you on a trail. The Washington DC region is fortunate to have an extensive network of trails that allow a near seamless off-street ride for much of your trip.  For a new bike commuter, trails alleviate many concerns of riding with car traffic and can simplify finding a route through the web of streets. For the regular commuter, trails are the expressways of bike infrastructure, offering direct routes that pass over and around busy intersections from as far as Vienna, Alexandria, Bethesda, Silver Spring and College Park. Where these trails end, they often connect to streets with bike infrastructure like bike lanes and even protected bike lanes (cycletracks) which form a network of bike-friendly routes.  If you are an infrequent rider, these will make getting to work a little less stressful. Consult the Google Maps bicycling layer to find a route or join one of the 
BTWD Commuter Convoys
that follow trails.
Regardless of your experience biking to work, Bike to Work Day is the perfect time to try out a trail near you. With pit stops on or near many trails, you'll find plenty of company and ample opportunities to exchange congratulatory high fives when you pick up your BTWD shirt. Below are some of the most popular trails with pit stops nearby.
Anacostia River Trail: South Capitol St to Benning Rd on both sides of the Anacostia River, and continuing north to Cottage City, MD
Anacostia at Martin Luther King Jr Ave & Good Hope Rd SE
Canal Park at M St & 2nd St SE
Capital Crescent Trail: Bethesda to Georgetown
Downtown Bethesda at Reed St.
Georgetown Waterfront Park at K St & Wisconsin Ave NW
Custis Trail: I-66 to Rosslyn
Rosslyn at the Rosslyn Gateway Park
Metropolitan Branch Trail: Ft. Totten to Union Station
Edgewood at Rhode Island Ave NE
NoMa at First St & Pierce St NE
Mount Vernon Trail: Mt. Vernon to Rosslyn
Old Town Alexandria at Fairfax Dr & King St
Crystal City Water Park
Washington & Old Dominion Trail: Purcellville to Shirlington Village
Merrifield at Sandburg St
Falls Church at Grove Ave
Falls Church at East Falls Church Metro
The Capital Trails Coalition
In October 2016, WABA, along with REI, the National Park Service, and many other regional partners announced the launch of a new a collaboration of public and private organizations, agencies, and citizen volunteers working to advance completion of an interconnected network of multi-use trails for metropolitan Washington, DC. Read our
blog post about the launch event here
, and more info
here
. The Trails Coalition has a powerful vision: The Capital Trails Coalition seeks to create a world-class network of multi-use trails that are equitably distributed throughout the Washington D.C. metropolitan region. The regional trails network will transform public life by providing healthy, low-stress access to open space and reliable transportation for people of all ages and abilities. Check out
the Coalition's homepage for more info and updates
on the new Capital Trails Coalition.
Don't forget to sign up for Bike to Work Day
: especially if you bike every day. This is the one day of the year to be counted (literally). Have a great Bike to Work Day.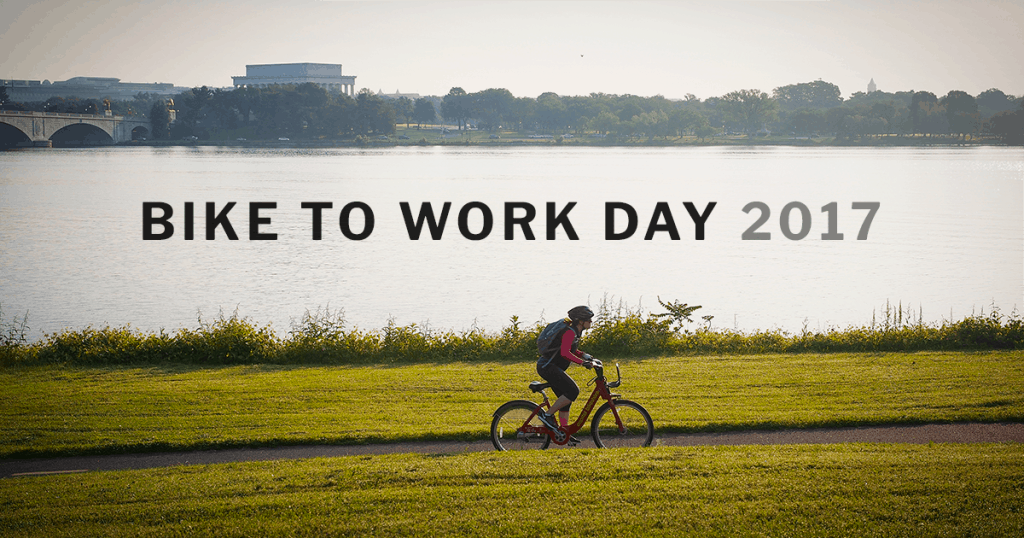 Event
:
Bike to Work Day
Date
: Friday, May 19th, 2017
Location
:
Find your pit stop here
. There are 86 pit stops across the region.
Time
: Various times, but most pit stops are open from about 6:30am to 9:30am. Some are afternoon stops.
Cost
: FREE!
Don't forget to register
.
More Info
:
waba.org/aboutbiketoworkday