Arlington's PAL Ambassadors put on a show for Bike Month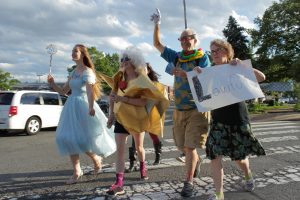 Sometimes asking people to be more predictable, alert, and lawful (or to be a PAL) for safer streets requires you to stand out and make a lot of noise to get their attention, especially if they're whizzing by in a car or on a bike.  For the Arlington PAL Ambassador May block party, we decided to go all out with a broadway-inspired theme to make our voices heard!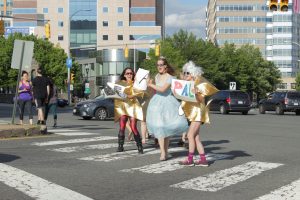 "Predictable, Alert, Lawful – The Musical!" was the name of our crosswalk show, which took place at a busy and confusing intersection in the Clarendon neighborhood.  It first started off with three of us – myself along with volunteers Autumn and Rheal – singing our own rendition of "Let it Go" while performing some light choreography in front of cars waiting for the light to turn green.  Were they confused? Probably. Did they enjoy it? Probably!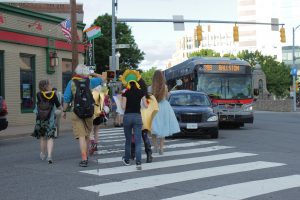 When volunteers Leeann, Greg and Naomi arrived, we then began dancing across the crosswalk to funky tunes and thanking our fellow pedestrians and considerate drivers for being PALs. One walker even told us about the time that he was almost hit by a car at that very intersection.  Vehicles turning right often fail to yield to pedestrians crossing the crosswalk near the O'Sullivan's Irish Pub.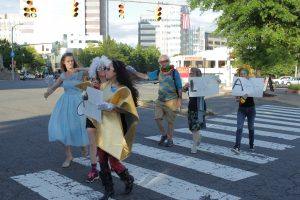 Our crosswalk musical was a hit with the Arlingtonians that interacted with us, and we had a blast ourselves!  While we'll never know if people became more predictable, alert, and lawful that day, we know one thing for certain – they'll almost always remember the PAL Ambassadors every time they approach that crosswalk!
Want to become an Arlington PAL Ambassador? 
Sign up