Introducing American University, WABA's newest Leadership Level Business Member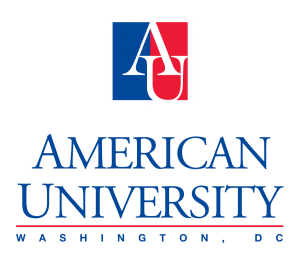 WABA's Business Members understand the importance of a community that bicycles. Their membership supports our advocacy, outreach, and education. Our business members are committed to a creating a healthy, more livable  region and are adding their voice to a growing number of bicycle-friendly businesses supporting WABA. Today, meet American University.
American University (AU) is proud to become the newest business member of the Washington Area Bicyclist Association. American University's Office of Sustainability has partnered with WABA on a number of occasions to offer educational programming — from Community Rides to Everyday Biking Seminars — and has chosen to become a WABA Business Member to show their support and pride of prioritizing bicycling as a safe and fun commuting habit for American University students, staff, faculty, and neighbors.
American University's commitment to bicycling stems from the University's commitment to be a carbon neutral campus by 2020, just one measurable goal within the University's groundbreaking sustainability initiative which won them the 2016 DC DOEE Sustainability People's Choice Award.
In order to reach their goals, AU has focused on how their community commutes, and has allocated significant resources to reduce and eliminate carbon commuting. In addition to bicycling advocacy and education, AU hosts an annual Transportation Fair, and was the first in the area to offer its students the U●Pass, an innovative partnership with WMATA that provides unlimited ridership during the semester for an upfront, fixed fee. Affordable and available transportation options are key for getting students to experience opportunities beyond the geographically isolated campus, and more integrated into the broader DC culture and community.
Fortunately, AU has a lot of the infrastructure in place to create safe and fun riding environments for their community, but there is an ongoing challenge of having all members of the community feel more comfortable while bicycling. When asked what the value of becoming a WABA Leadership Level Business Member was for American, Megan Litke, Director of Sustainability at American University stated,
As American University works to achieve climate neutrality, one area of focus has been on transportation and getting people out of single occupancy cars. Our partnership with WABA has helped us offer new resources for bicycle commuters and has helped us establish a bike community on campus. The workshops they offer and the community rides have all been wildly popular and we are thrilled to continue to partner with them to help get our community out of their cars and grow our bicyclist network.
Due to the Office of Sustainability's progressive outreach and educational programming efforts in partnership with WABA, the AU community has experienced increased ridership and comfort, both on campus and off. We look forward to helping the university meet their ambitious environmental goals in the years to come!
Do you own, work for, or patronize a business that is a good candidate for our business membership? For just $300 or $800 per year, you can show your support for a bike-friendly region and WABA's advocacy and get all sorts of perks, including your very own blog post! Details here.