Make a difference in your community – teach bicycle education
Are you looking to make a positive impact in your community? Do you ride your bicycle and think, "I'd like to see more people riding their bicycles safely and happily." Do you have spare time on Saturdays and Sundays that could be better spent making bicycling better in the region? Then, you should consider applying to become a WABA instructor!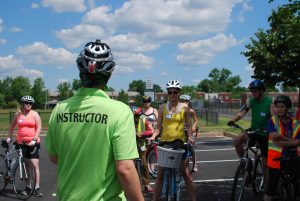 In 2016, WABA taught 483 adults how to ride a bicycle for the very first time and 311 adults how to ride more comfortably and confidently throughout the region. None of this could have been accomplished without the help of our amazing team of
League Cycling Instructors
(LCIs).
WABA is growing our instructor team and looking for people to teach with WABA to get more cyclists on the road in our region. WABA is hosting a LCI seminar in November. This seminar will be an intensive, fun and engaging course taught by experts and it will be free!
Click here to learn more and apply.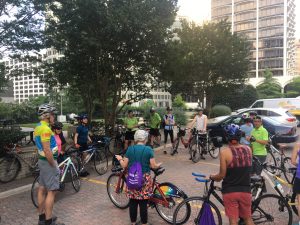 Recently, I asked one of WABA's Lead Instructors, Liz, why she applied to become a LCI four years ago. Not only does Liz teach for WABA, she also provides one-on-one instruction to many members of her community. Liz shared some very compelling reasons to to become an instructor:
"I applied for the LCI seminar because I've always been enthusiastic about preaching the gospel of bike commuting, but now I could be paid to do so! Seriously, it seemed like a brilliant way to make some extra money doing something I was doing anyway. But once I started going through the process, I discovered that becoming an LCI is so much more.
The LCI seminar is, hands down, the hardest I've ever worked to get through a training program but is also the single most valuable professional development course I've ever attended. The things I learned there helped me communicate not only to bicyclists but also helped me communicate better and get more done in my day job. Knowing about how people learn and how to cater to more than one learning style makes every communication more powerful.
I keep teaching because it is joyful to see someone master a new handling skill or pedal away for the very first time. The WABA classes are a blast, but I also give private lessons and help friends improve their bicycling. I've found that many of my private clients are women who didn't grow up in the U.S. who now want to learn to ride bikes to keep up with their children or get back into shape now that their kids are more independent. As a new mom, I can relate to this line of thinking now!!
I especially love the students who are nervous or scared or think they are too old to learn. How brave it is to try new things as we age! I admire every single person who reaches out to me or shows up at an Adult Learn to Ride class and takes a big step out of their comfort zone. They remind me to keep trying new things, and they are SO GRATEFUL for the few short hours of time I devote to them. And, somehow, I'm paid very well for this time that I'm lucky to spend with them. It's a dream job."
If you're interested in teaching for WABA or know someone who would be a great asset to our instructor pool, join us in bicycling better in the region
.