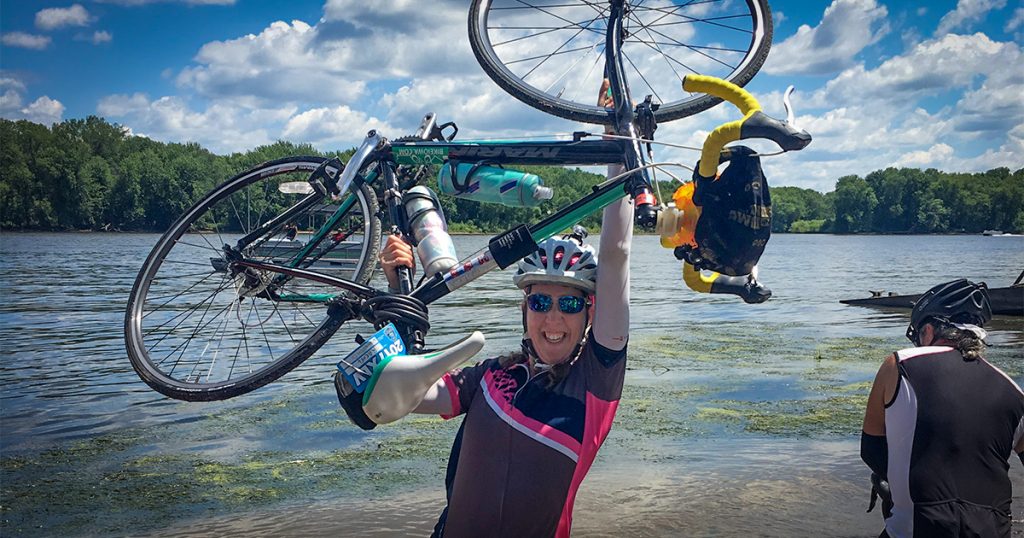 Meet Rachel Maisler, a dedicated and enthusiastic WABA member who recently represented the WABA community at the 
Register's Annual Great Bike Ride Across Iowa (RAGBRAI)
! Rachel, who has been an member since 2013, loves to show off her passion for WABA, proclaiming: "it's all about the socks." "Just kidding. I love WABA for so many reasons! WABA does a great job of building community among DC area cyclists and advocating for what's important to its members." It was this sense of community that Rachel brought with her to Iowa, where she completed the 411 mile journey for RAGBRAI XLV. Cyclists travel from around the world to Iowa to ride across the state in the world's longest, largest, and oldest bicycle touring event. Although she was in another state, Rachel still felt like part of the WABA community. "I made sure to bring my WABA jersey and socks with me. Each time I wore them, people were shouting out that they're from DC (or the suburbs), too. I probably ran into about 10 other WABA members on the ride." "When I was trying to figure out how to get my bike to Iowa, I remembered WABA offers a 
bike box as a member benefit
. I was able to pack up my bike and bring it on the plane with me." When she is not representing WABA in rural Iowa, Rachel is involved with WABA closer to home. "
Bike to Work Day
 is always fun. This year, my councilmember asked me to plan a route and ride to work with him on Bike to Work Day. It was really cool to ride with him and point out what DC does really well for cyclists and how the city can improve." WABA is so happy to have Rachel as a member and a passionate advocate for bicycling wherever she goes! Thank you, Rachel! PS: Want to get a pair of those pink socks Rachel loves for yourself? 
You can purchase a pair here.
---
WABA Member Highlight
Are you a WABA Member ready to share your story? We'd love to hear how you started bicycling, or an inspirational tale of how it has changed your life. Contact Tara Kelbaugh at membership@waba.org if you would like to share.