Women & Bicycles and The Season of Trails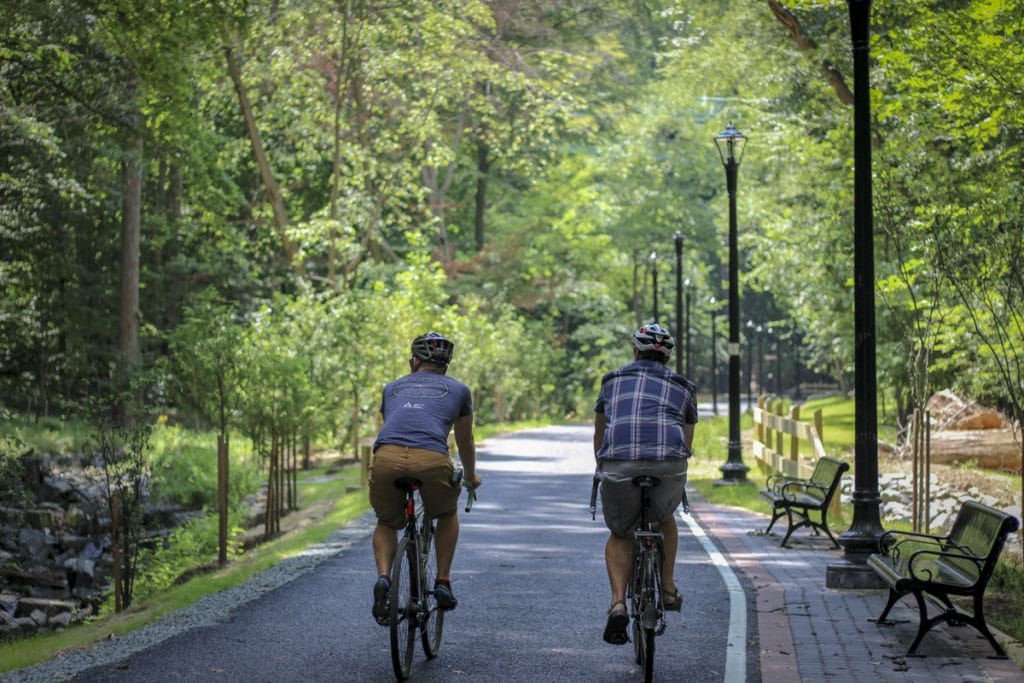 Many riders- whether they are new riders, experienced riders, riders with kids, riders trying out a new style of bike, and more- enjoy riding on bike and multi-use trails. A
well-designed, well-maintained trail
can offer a safe, beautiful ride, with many offering shady tree coverage, a beautiful view, a chance to
connect with the community
in a way that would be much more difficult from a car, and even bike amenities like
little fix-it stations
for minor repairs. Women & Bicycles is making this fall the season of trails, partnering with the Capital Trails Coalition, and with WABA's D.C. Trail Ranger program to offer a series of workshops and trail rides, to showcase great trail design, explore future trail possiblities, and teach women to become advocates in the movement to improve our trails network.
Help support the work of Women & Bicycles
!
While you're here, don't forget to join the Women & Bicycles community on Facebook!
What's going on this fall?
In September
In October
Tuesday 10/3, 6:00-9:00PM: Who, What, Where Workshop (women only)
Friday 10/6 through Sunday 10/8: You're invited to the National Youth Bike Summit! (all ages)
Wednesday 10/4, Wednesday 10/25, and Friday 10/27: Don't miss the annual Community Spooky Rides, including the now-famous Haunted Hill Ride. These no-drop, open-to-all rides introduce you to the city you've been too spooked to discover!
Saturday 10/28 From the Ugly to the Good Ride (women-only, registration coming soon): this partnership with the Trail Rangers takes us on a tour of the bike trails in Anacostia, from the trails that need help to be great, to the ones that are great right now.
And you still have time to join us for class to polish your skills!
In November
Registration opens in early October for WABA's Cider Ride (Saturday 11/4), a signature event! (open to all)
Saturday 11/11: Mind the Gap! Ride (women only, registration coming soon) We transport you to a start in Bowie, MD, and ride the WB&A trail. We'll show you how to navigate a trail gap, and you'll learn how better infrastructure can connect communities.
Thursday 11/16, join Women & Bicycles at the regional Trails Symposium hosted by the Capital Trails Coalition (open to all)
We hope to see you out on the trail this fall!
---
Want Women & Bicycles updates by email?
Yes!
---
Women & Bicycles is a program of WABA, specifically to encourage more women riding in a safe, confident, joy-filled manner. We strive to create a safe and welcoming space for women to build their skills, so we want to let you know that these particular events are open to women, GNC/Genderfluid and trans-identified folks.