City Cycling Class Brings you More Joy When you Ride
Many people are familiar with WABA's Learn to Ride class–to teach adults to ride a bike for the first time–but that's just where the learning begins.
Whether you've been riding for four months or forty years, it's almost guaranteed that you'll learn something new at a City Cycling class. Read below to see how Kemi, a Trail Ranger for WABA in 2017, appreciated her ride even more after picking up a few tricks.
---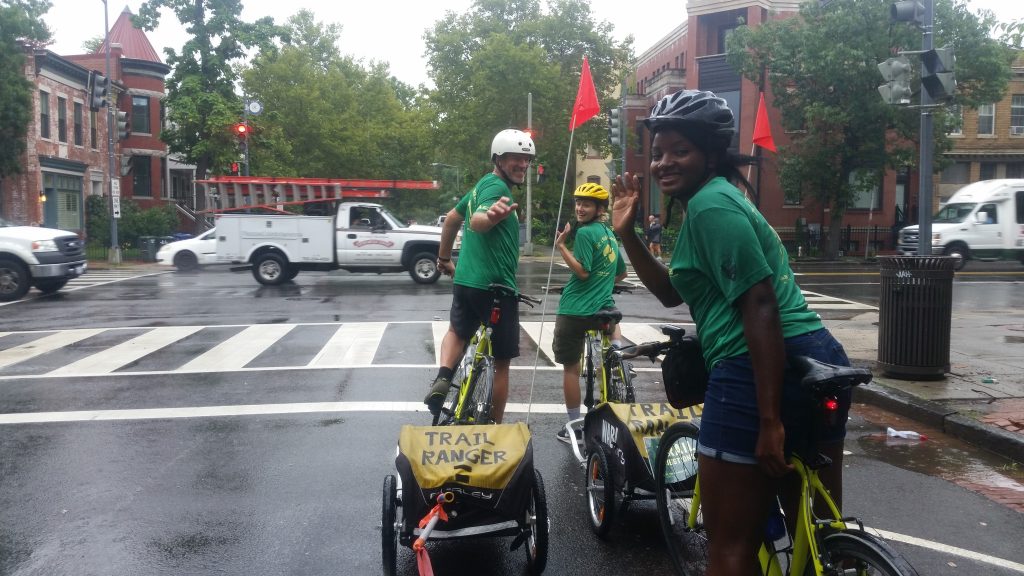 "How do I put more pedal to the metal?" this was the question I asked during an orientation ride around the city as a new D.C. Trail Ranger.  I did not realize how embarrassing the question was until I heard the answer, "Shift the gear up", said Ursula. I replied with a "Oh duh, thank you." This said a lot about my cycling experience level coming into this Trail Ranger position. I hadn't biked in years before getting on one of the Trail Ranger bikes for a quick city cycling lesson. To be quite honest, that first ride was a bit of a struggle. Getting used to turning, stopping, and starting, after the first ride I was afraid I was never going to be able to get the hang of it. Practice makes perfect.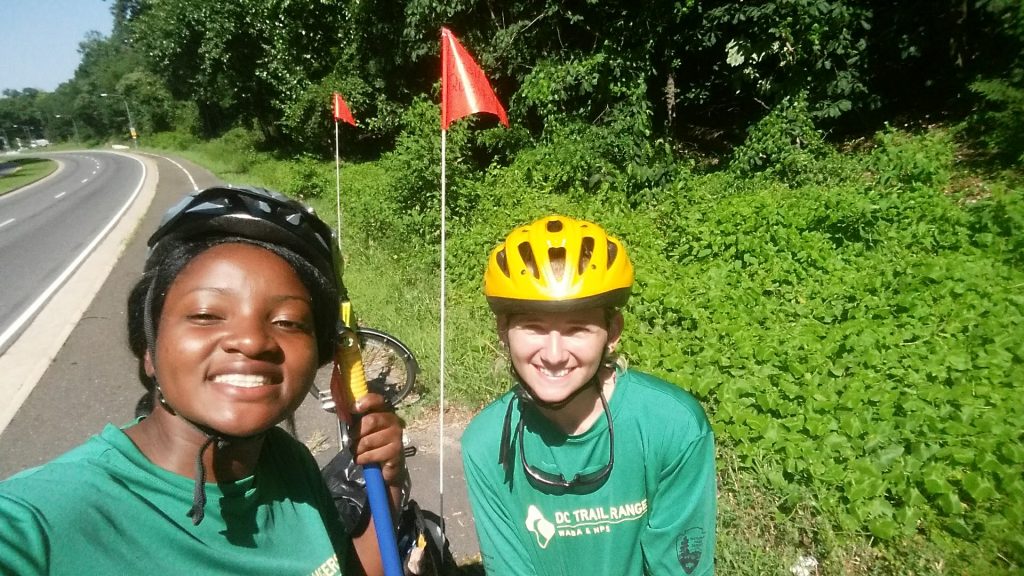 My first ever shift was with the amazing Trey Robinson, he taught me everything I needed to know that first time and did a great job explaining a lot to me. Because I was training we took one trailer with things in it and headed to the Metropolitan Branch Trail. "Since it's your first shift, I'll take the trailer," he said. "Sure," I replied and we took off. We picked up trash, glass, and trimmed vegetation. Then it was time to make our way back, "I'll take the trailer now," I said with confidence; "Are you sure?" he questioned me, "Yes!" I replied with determination. My first time riding with the trailer was not as bad as I imagined it was going to be. I zoomed ahead and navigated safely through traffic, I nearly forgot that I had the trailer. We got back and Trey says, "Wow, you know what you're doing, and they told me to take it easy on you." I felt great and even more confident that this was going to be one of the best summer positions I've ever had.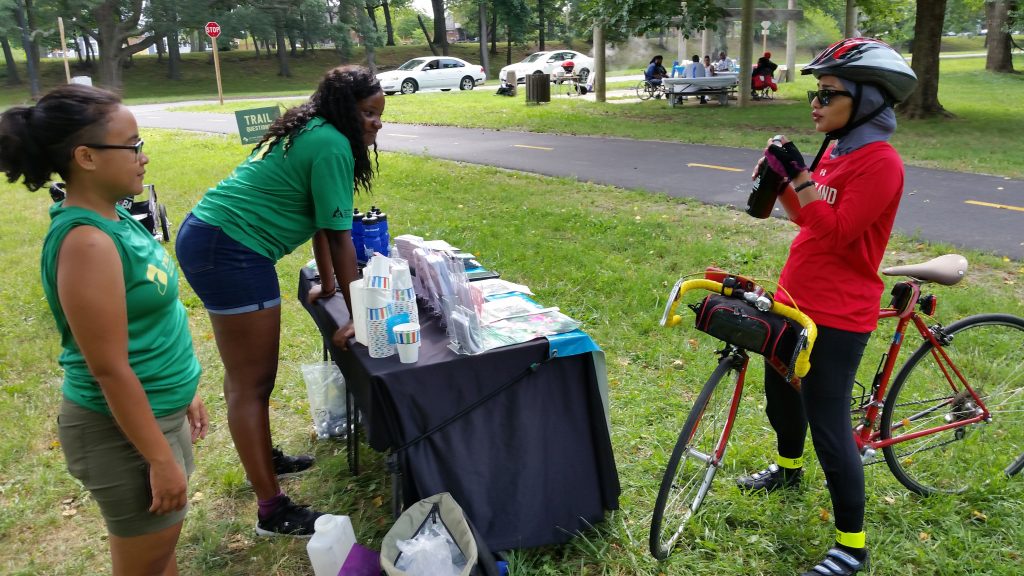 Working with the Washington Area Bicyclist Association (WABA) taught me about the cycling culture in a city. It showed me that WABA is 100% necessary, without this organization and the work that they complete day in and day out we would not witness as many cyclists in the area. I have learned about the incredible work WABA does and what it means to all the many communities in the D.C. area, including: biking infrastructure such as bike lanes and trails, advocacy for safety, cycling classes, small bike business support, etc. All of these things have brought so many people from different walks of life together in order to support a wonderful mission.
This internship has really taught me a lot and most importantly it has provided me with skills that I can share to so many others like myself. I am adopting cycling as a great mode of transportation, exercise, and discovery, which is something I didn't do before. Working with WABA has really shown me how easy cycling is and has given me confidence to continue to bike almost everywhere and express this sentiment to anyone who is as hesitant as I was. I really enjoyed telling everyone at outreach about city cycling classes so they can join me in riding more."
---
Kemi became a confident rider on the job with city cycling as we covered urban riding, quick stops and other skills as employee training. We'll be hiring Trail Rangers for the 2018 season in April but you can get the same skills in the course of a morning and no cover letter required!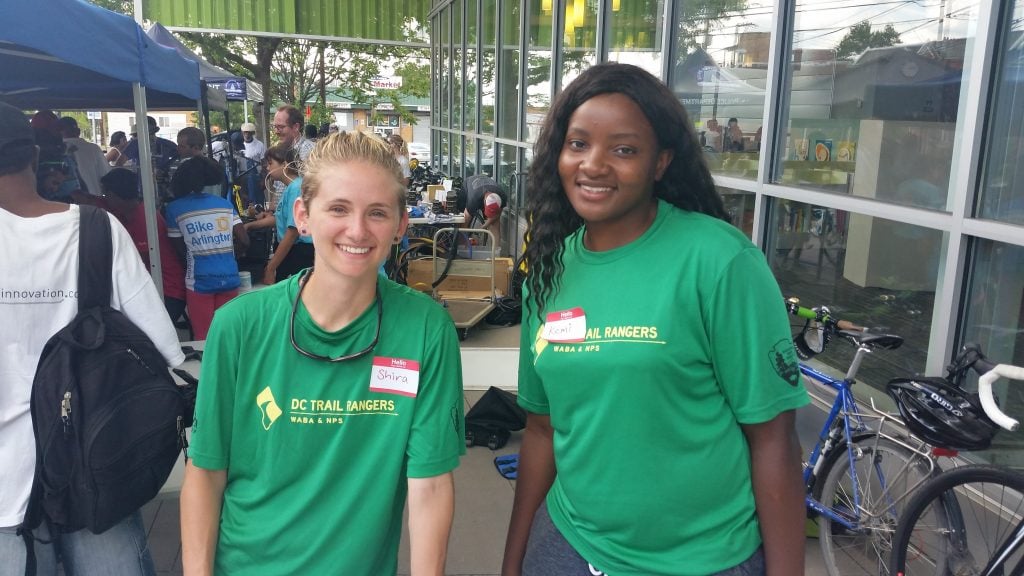 City Cycling classes are scheduled to take place in multiple locations this fall.
To view the complete schedule of classes click here.
To get a discount code to register for free,
email me
. As with riding in general, the City Cycling class is more fun if you bring a friend. If you don't, no worries, you're bound to make a friend or two during the class. Happy riding!