I-66 Trail- Still nowhere near good enough
Remember that
bad trail design
being proposed along Interstate 66? The one with five miles of bike lane crammed between ten lanes of highway and a concrete sound barrier?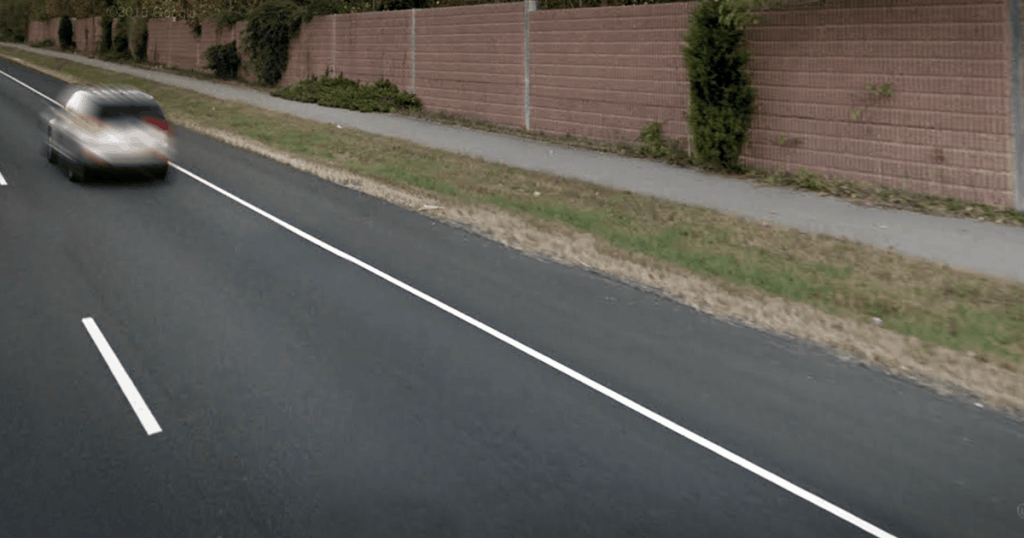 It's been getting a lot of attention. In July, the
Washington Post
described the current Virginia Department of Transportation (VDOT) designs and shared a video from FABB that showed what the trail experience would be like with the trail on the inside of the sound wall. Over the summer, hundreds of people wrote to VDOT and contacted their state senators and delegates. Their message was clear: the design for the trail along the I-66 corridor needs major improvement. In August, Senator Scott Surovell, along with 18 state senators and delegates from Virginia, sent
a letter to VDOT Secretary Aubrey Layne
, expressing their opposition to the current design and calling for a redesign of the trail to take the trail outside of the sound walls and ensure it is wide enough to accommodate the anticipated volume of trail users. Despite all that, we haven't seen much from VDOT that indicates they're willing to change this sub-standard and uninviting trail design.
---
Live in Fairfax County?
---
The bulk of this project is in Supervisor Linda Smyth's district. A recent Freedom of Information Act request showed emails from Supervisor Smyth that revealed a lack of concern for the opinions of her constituents that care about the health and safety of people who will use this trail.
It shouldn't come as a surprise that we're not satisfied.
WABA and other trail advocates have been saying for years that we need a trail outside the sound barrier, and up until 2016, that was where the designs indicated the trail would go, until a small group of homeowners complained loudly enough to have those plans scrapped. We agree with Senator Scott Surovell that it's disappointing that "a handful of homeowners' desire to view a sound wall instead of a bike trail seems to trump the health, safety and convenience of thousands of Virginians."
It's time for Fairfax County and VDOT to stop treating bicycling infrastructure as an afterthought, rather than an integral part of the transportation network.
If the "goal of the project is to move more people, not more cars," as VDOT Megaprojects Director Susan Shaw says, then VDOT needs to design the I-66 Trail in a safer and more accessible way, including finding space outside of the sound barrier for the trail. Billions of dollars are going into this infrastructure project. It will likely not be revisited for another 40 years once built. It should be designed with care, and done right the first time. All Northern Virginia residents are affected by this interstate expansion project. That's one of the reasons that VDOT is justifying spending billions of dollars on it. By the same reasoning, all Northern Virginia residents have a stake in whether this trail is designed well.  That's why it's so important that you speak up.
This trail is unlikely to be rebuilt for 40 years.
This is our only chance to get it right. That's why your help is urgently needed.
---
Live in Fairfax County?
---
Here's how to get involved:
If you live in Fairfax County, tell your County Supervisor that you expect them to stand up for your interests, and ensure that public money is spent responsibly! They should be pushing VDOT to design a trail people will want to use. Click here to ask that the trail design be improved.
Keep the pressure on the VDOT trail design team by attending one (or all) of the public hearings in November: November 13 at Oakton High School November 14 at Stone Middle School November 16 at Piney Branch Elementary School
Send your comments directly to the VDOT project team. Email Transform66@VDOT.Virginia.gov
Volunteer with WABA. In November, we'll be prepping for the November meetings and getting the word out to those who walk and bike in Northern Virginia. Will you pitch in? (If you're interested in helping out, email katie.harris@waba.org)
We know VDOT can do better than this, and we're excited to see what they're ready to share at the November meetings. We only have a few chances to make this major piece of infrastructure (22 miles of trail!) a success.
Let's make sure it's done right.