Bethesda needs a complete, protected bicycle network ASAP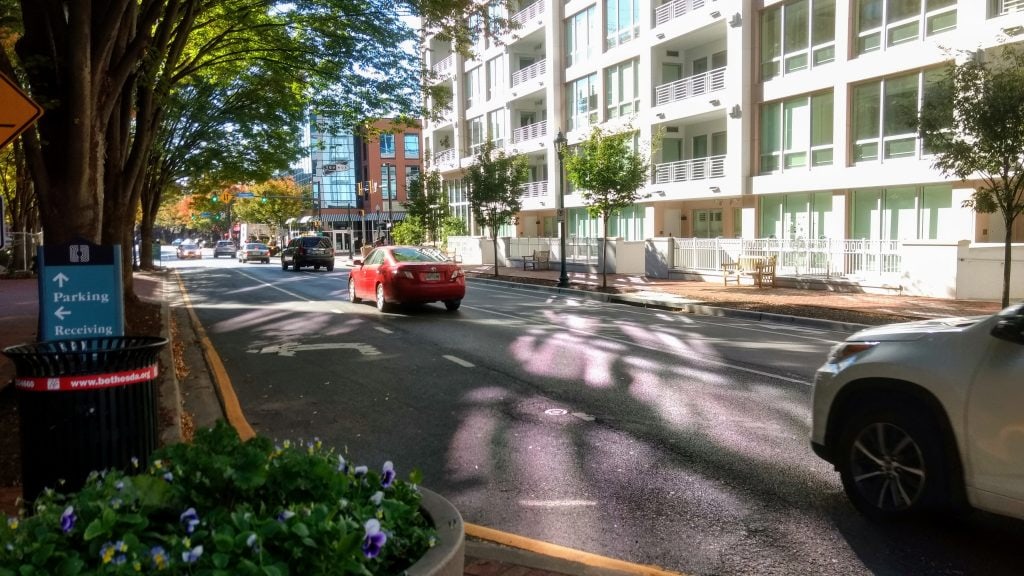 The abrupt 5+ year closure of the Georgetown Branch Trail made the long-standing challenges of getting to and through Bethesda by bicycle an urgent safety problem. With only a handful of disconnected, unprotected bike lanes, Bethesda's streets are too stressful and hazardous for most people to bike on, and are certainly no substitute for the Georgetown Branch Trail. Bethesda needs a complete, protected bicycle network—ASAP.
Build a core network
A safe and low-stress bicycle network circles around and through the heart of Bethesda geting kids to school, commuters to work, and shoppers to stores. New protected bike lanes and low-stress bikeways connect the Interim Georgetown Branch Trail into downtown Bethesda and create safe crossings of Wisconsin Ave and Old Georgetown Road.
Existing network in Green. Proposed core network in Red.
Woodmont Ave – a 2-way protected bike lane from Wisconsin Ave at Leland St to Norfolk Ave, is the pivotal backbone of the network. It will connect the Capital Crescent Trail to the Bethesda Trolley Trail via Norfolk Ave and the Interim Georgetown Branch Trail along Jones Bridge Rd and Maryland Ave. via Cheltenham Dr.
Montgomery Ln / Ave – a 2-way protected bike lane will connect Woodmont Ave to Pearl St. and East West Highway, creating a safe crossing of Wisconsin Ave and a new bicycle link to Bethesda / Chevy Chase High School and the many stores and offices on Montgomery Ave.
Pearl St / Maryland Ave Bikeway – bike lanes and traffic calming will create a low-stress neighborhood bikeway from Montgomery Ave to the Jones Bridge Rd.
Norfolk Ave / Cheltenham Dr. Bikeway – bike lanes and traffic-calmed neighborhood streets from Woodmont to Pearl St. will create a new safe crossing of Wisconsin Ave and a northern link to the Interim Georgetown Branch Trail.
Capital Crescent Trail Surface Route – a 2-way protected bike lane crossing Wisconsin Ave. from Woodmont Ave to Elm St via Bethesda Ave, Willow Ln and 47th St. This will reconnect East Bethesda and Chevy Chase residents south of the now-closed Georgetown Branch Trail and serve the important trail crossing while a new trail tunnel is designed and built.
How do we get this done?
Funding! Only small pieces of this envisioned network are currently funded for design and construction.
Tell the County Executive and the County Council you support funding these improvements to make safe biking possible for all types of bicyclists.
Funds are needed this spring and in July to build these essential safety improvements. Montgomery County's budget process is already underway. The Woodmont Ave protected bike lane needs more than $1.5 million to construct and additional funds are required for improvements to Montgomery Ln, Pearl Street, Maryland Avenue and Cheltenham Drive to complete the core network.
Update
Since kicking off the campaign in December, it has gained momentum! In December, Council President Hans Riemer and Councilmember Roger Berliner
requested
that the County Executive fund a core Bethesda bicycle network. In January, the
Bethesda Bike Now Coalition's video
, highlighting the stressful riding conditions in Bethesda, went viral with over 16 thousand views. The Washington Post
highlighted the issue in an article
a few days later. Finally, County Executive Ike Leggett's proposed budget includes $3 million over the next three years to design and build the proposed network! We commend Executive Leggett for proposing funding for the network over the next few years. However, we are concerned that the proposed funding is not sufficient to complete a usable network by July of 2019. As the County Council reviews the budget, we hope that some of this funding can be moved up to Fiscal Year 19.
Sign the Petition to support this final step.