Meet Jono, a WABA volunteer hero
WABA is excited to introduce Jono Sirovitka, a, dedicated member who just can't stay away from bicycling! Jono is a research technician at the National Institute of Health and a Montgomery County native. When he's not on a bike, you can find him hiking or whitewater kayaking inthe region.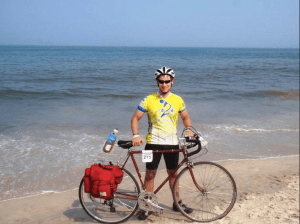 Whether he is riding in his favorite WABA signature event, 
The 50 States and 13 Colonies Ride
, or volunteering in the office, Jono is invested in building better bicycling. "I have come to love biking for many reasons. As a mode of transportation, it feels good to know I'm not polluting. It keeps me healthy and in shape. Sometimes, I can even get places faster by bike than by car." Jono first joined WABA five years ago and says, "I support a local organization that advocates for and does work in my community. I like being able to see the results of WABA's efforts where I live and work." Jono is also an active WABA volunteer, and we are always grateful to see his friendly face in the office. "I love meeting other volunteers and WABA staff. It's great to see the inside workings of an organization I support. I've volunteered with other organizations, but rarely see my efforts translate to tangible results. With WABA, I do. Whether preparing materials for a ride or putting together membership packets, I feel my volunteer work is valued." WABA is so happy to have Jono as a member, speedy envelope stuffer, and a passionate advocate for bicycling wherever he goes! Thank you, Jono! ______________________________________________________________________
WABA Member Highlight
Are you a WABA Member ready to share your story? We'd love to hear how you started bicycling or an inspirational tale of how it—and WABA!—has changed your life. Contact Tara Kelbaugh at membership@waba.org to share.