What's going on with the Met Branch Trail in Ward 4?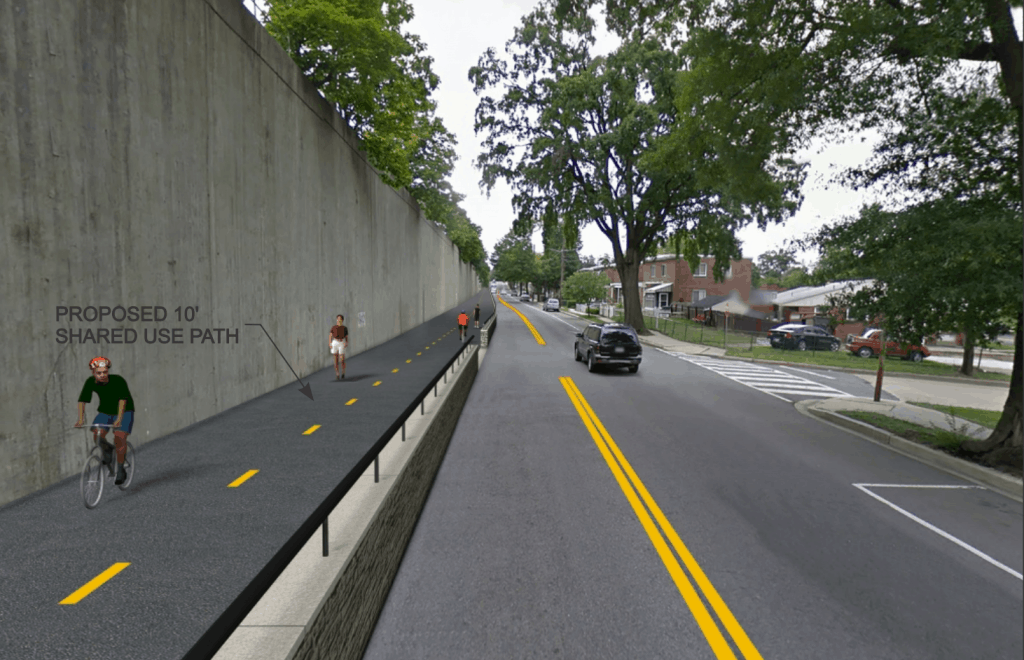 On Tuesday, December 5, the Public Works and Infrastructure Committee for Advisory Neighborhood Commission 4B is hosting an informational meeting to discuss and debate the merits of the Metropolitan Branch Trail (MBT) in Ward 4. This meeting is a key opportunity for Ward 4 residents and 4B neighbors to get to know the project and encourage elected commissioners to support the trail as planned. If you want a continuous biking and walking trail connecting Silver Spring and Downtown that also makes Blair Road safe for all, come to Tuesday's meeting!
ANC 4B PWI meeting on the Met Branch Trail
Tuesday, December 5 5:30 pm – walking tour meets at Peabody St. & Blair Rd NW 6:45 pm – indoor meeting at Takoma Village Co-housing (6827 4th St. NW)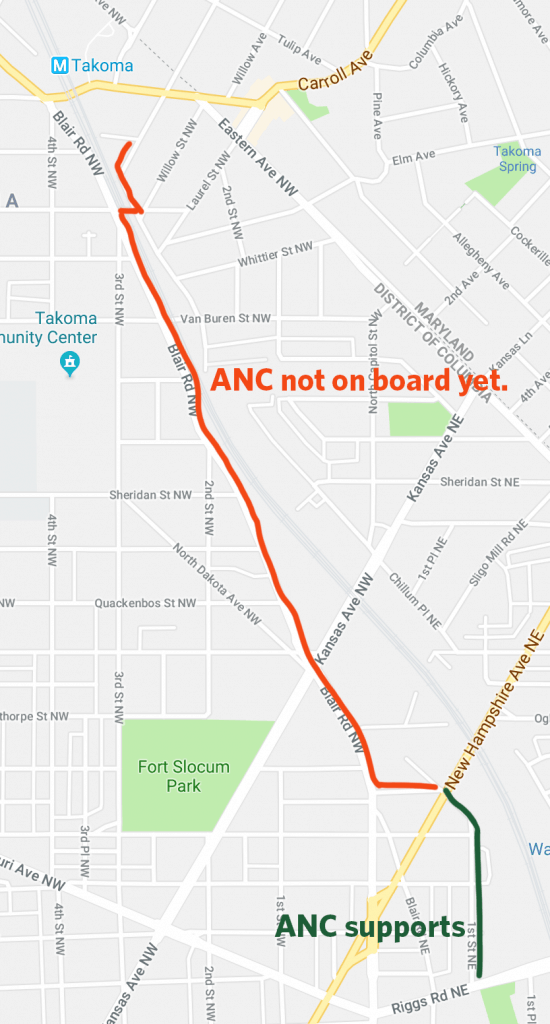 In October, the ANC passed a resolution supporting just 1500 feet of the 1.6 mile trail plan in Ward 4. On January 22nd, Commissioners will finally vote on a resolution considering the rest.
What is at stake?
Despite strong attendance from trail supporters at meetings, more than 150 petition signatures from 4B residents, and dozens of emails to commissioners asking for support on DDOT's plan, many commissioners oppose routing the trail on Blair Rd at all, claiming that Blair is somehow too dangerous for traffic calming to work or that delaying drivers for the sake of non-driver safety is unfair and suggesting instead that trail users go to Eastern Ave or 3rd St or other roundabout "alternatives." Many options were considered by DDOT during the past four years of planning and community input and found to be unworkable. At this stage, altering the route has dire consequences for the usability and success of the trail, adds years of delay and prevents needed safety improvements on Blair Rd. Traffic studies indicate that the trail as planned could add as many as six(!) seconds per block to peak driver travel times along Blair Road. This is not a good reason to delay a critical regional connection for people biking and walking. Based on the regional importance of this trail segment, DDOT could decide to move ahead without ANC 4B support, but WABA hopes the Commission will support this long-anticipated addition to the neighborhood.
What can you do to help?
Attend Tuesday's meeting. Get to know the project, and demand that your neighborhood representative support DDOT's plan for the MBT and a safer Blair Rd. RSVP
Join our Facebook Group. Get involved in rallying support for the Met Branch Trail in Ward 4.
Sign and share our petition. Help show your elected neighborhood leaders the broad community support for the Met Branch Trail.
You can learn more about the routing and plans for the Met Branch Trail on
this interactive map
or at
metbranchtrail.com/resources
.