The 2017 Hains Point 100 was a tremendous success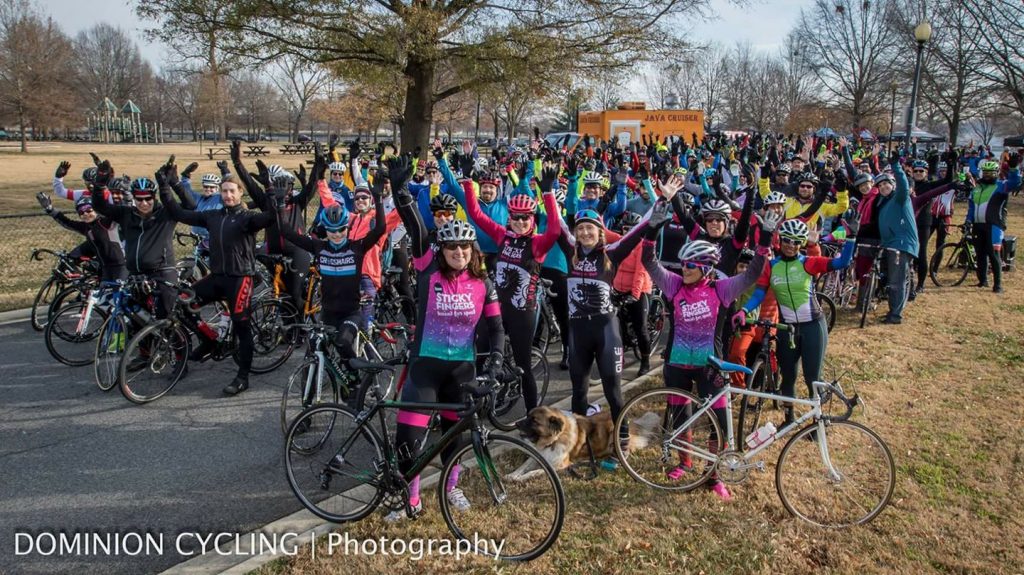 This past December, we celebrated the 6th annual Hains Point 100. Over 600 riders showed up throughout the day, riding all sorts of bicycles and raising $19,300 to support WABA's Women & Bicycles program. Donations from the event help fund over half the budget for the Women & Bicycles program, allowing us to provide programming all over the metro areas of DC, Maryland, and Virginia. We really couldn't do what we do without the support of amazing volunteers–like Megan, Mark, and every rider who shows up to ride circles around Hains Point. The Hains Point 100, now in its 6th year, began as an informal bike party to help fund the then-brand-new Women & Bicycles program. Megan Jones invited her friends to come ride 100 miles around Hains Point, a three-mile flat loop usually popular with triathletes and bike racers doing speed training on racing bikes. Riding a small loop for 100 miles on different types of bikes seemed like a silly and fun reason to ride a bike in December. Riding a three mile loop in December appealed to hundreds of other people. It's become known as a great way to have fun outside with friends. People began riding different styles of bikes: folding bikes, cargo bikes, tandems, tri bikes, beach cruisers, vintage steel, and even Capital Bikeshare bikes (dutifully docking every lap to avoid fees!), unicycles, and e-assist bikes. The Hains Point 100 now includes support from the amazing Team Sticky Fingers (a women's cycling team), dozens of businesses, a specialty pie company, bike clubs, and the famous Potluck Table where riders drop off treats to share. WABA's Women & Bicycles program is supported by donations.
Please consider supporting us
so we can keep offering new programs.
Follow us on Facebook
or sign up for our email list here so you don't miss out on future rides!
Yes!