Come to the River: Anacostia River Festival!
The cherry blossoms are in peak bloom which means the Anacostia River Festival, one of the District's biggest annual festivals, is right around the corner! Rivers, trails, bike rides – all the elements for a great weekend. We have a number of ways you can join us for the fun – at one event, or all of them!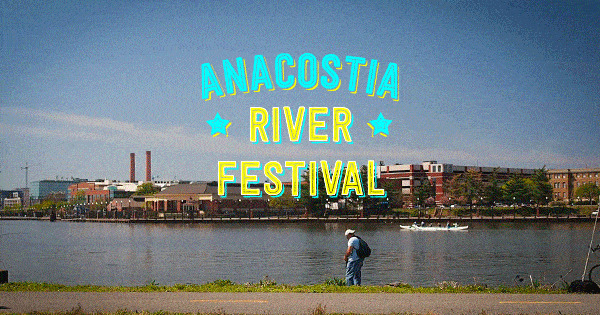 Monday, April 9th
Crafting for Anacostia River Festival Bike Parade 5:30 pm – 7:30 pm We're teaming up with
Project Create DC
to host a bike craft night for the annual bike parade. We'll be making river-themed versions of the DC flag so come with your best ideas for local river wildlife flags! Felt and materials provided.
More details and let us know you're coming
Saturday, April 14th
Anacostia River Festival Cleanup 9:00 am – 12:00 pm Help make the big day a success by joining us the day before the Festival for a massive trash removal effort and park cleanup! We're joining
Anacostia Riverkeeper
so we should have a decent crowd of folks. We'd all prefer that our watershed not have trash in the first place, but second best is a fun morning with great folks making a tangible impact to prettify our public space.
More details and let us know you're coming
Sunday, April 15th
Ride Along The River with WABA 12:00 pm – 1:30 pm The flowers are blooming, the birds are singing, and the Anacostia River is gorgeous. Join us for a ride that celebrates spring! Come explore the beautiful Anacostia River Trail with us, enjoy a great ride, and we'll end up at the Anacostia River Festival as a group.
More details and let us know you're coming
Anacostia River Festival
1:00 pm – 5:00 pm The big day! 10,000 people, boat tours, crafts, hammocks, and free bike valet. It's a great afternoon in the park at the Anacostia River Festival. Bring your family and friends and spend the day with us!
More details
Volunteer at the Festival with WABA 12:30 pm – 5:30 pm The Anacostia River Fest is a huge outreach day for WABA and our booth is busy all day. To pull off all the fabulous programming and get more people biking on the Anacostia River Trail and beyond, we're going to need some help! Volunteers will be supported by WABA staff, including the Trail Ranger team. The main role for volunteers will be cheerfully greeting Festival-goers, promoting WABA and biking, and answering questions.
More details and let us know you're coming