Ride into spring with Silver Spring Social Rides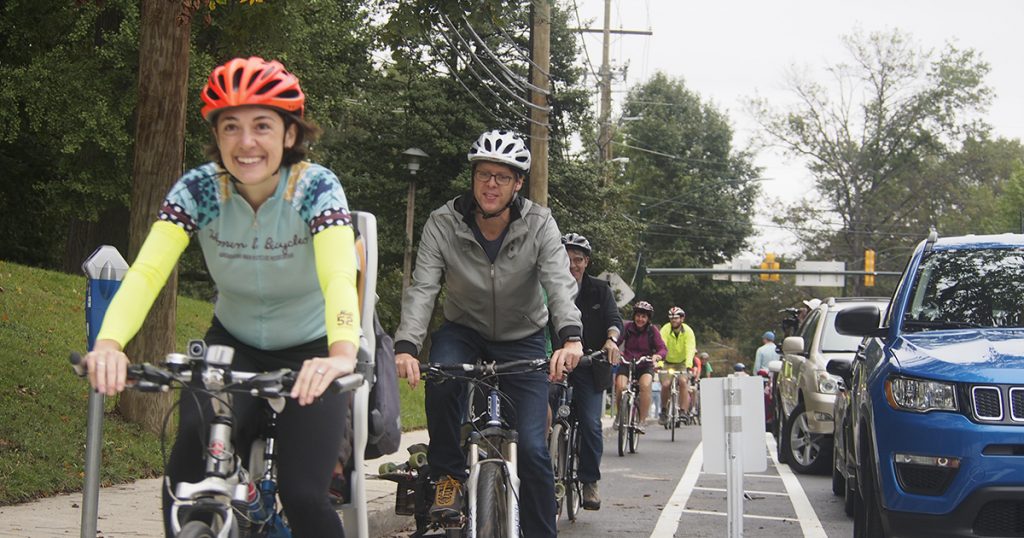 After a chilly winter, trees are getting greener and the air sweeter, meaning spring is finally here! And now that it is fun to be outside again, it's time to go for a bike ride! Join WABA and the Bike Silver Spring community for a series of social rides to get back in the saddle, meet new friends, and get to know Silver Spring by bike. Rides are fun, free, and most are family friendly.
Earth Day Ride – Sunday, April 22
Celebrate our planet with a family friendly ride We will meet at Veterans Plaza at 10:00am in downtown Silver Spring, and ride up the Sligo Creek Trail to Wheaton Park. On the way back, riders will have the option to help "clean the creek" with Friends of Sligo Creek. The route is 14 miles
round trip
, mostly on trails and quiet streets.
Register here.
City Cycling Class – Saturday. May 5
In a WABA City Cycling class you'll learn bike handling tips and tricks that leave you feeling more confident, competent and comfortable, whether you're riding on the brand new Spring St. protected bike lanes or on a hectic and busy street like Wayne Ave.
Learn more and register here.
Silver Spring Art Ride – Saturday, May 12
Join us for Bike Silver Spring's second Art Ride on Sunday, May 12. We will meet at 10:00am at Veterans Plaza and bike around Silver Spring at a gentle pace while learning about some of the public art you see everyday (and maybe a few you hadn't noticed). We welcome bikers of all ages and skill levels to enjoy this guided tour of Silver Spring public art! The ride will be around 5 miles with many stops.
Register here.
Bike to Work Day – Friday, May 18
Join the growing number of bike commuters on Bike to Work Day 2018. Stop by one of the 100+ pit stops in the region for food, prizes and the encouragement you need to get to work by bike. Nearby pit stops include Silver Spring – Discovery Place, Takoma Park Downtown – Old Takoma, Takoma Park – Sligo Creek Trail and FDA White Oak. If you work in downtown DC, join a 7:00 am convoy from the Silver Spring or Takoma Park Pit Stops. Register for your free t-shirt and learn more at
www.biketoworkmetrodc.org.
Memorial Day – Monday, May 28
Monday, May 28
 is Memorial Day and streets near the Mall will be closed to auto traffic. Come ride from Veterans Plaza in downtown Silver Spring at 
10:00 a.m.
 We will ride to the beginning of the Metropolitan Branch Trail at the Silver Spring Metro and follow the alignment, including the parts constructed and the signed route, south toward DC and the Mall (about 9 miles one way). After cruising the car-free streets in downtown DC
, 
riders will then have the option to ride back the way we came, take the metro back home, or stay in DC for the Memorial Day festivities. 
Register here.
A Sweet Ride – Saturday, June 9
We know you love biking, but why not sweeten the deal a bit further? Join Bike Silver Spring on Sunday, June 9 at 10:00 am for a casual ride through downtown Silver Spring and Takoma Park with stops at several local shops for some delicious sweet treats.
Register here.
Bike Safari (Zoo Ride) – Saturday, June 30
Let's go bikin' now (everybody's learnin' how). Come on a safari with me! Join our pack when Bike Silver Spring rides to the National Zoo on Saturday, June 30! We will meet at Veterans Plaza at 10:00am, ride about 7.5 miles thru Rock Creek Park, and then enjoy a couple hours at the zoo. You'll have the option to bike back, take the metro, or continue your own adventure from the zoo!
Register here.
Rides are made possible thanks to support form the
Montgomery County Planning Department
's Silver Spring Placemaking Initiative.