Celebrate Bike Month with business member Island Press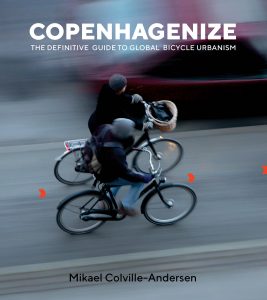 As the leading nonprofit publisher of books about the environment,
Island Press
supports WABA's vision of making bicycling safer, easier, and more accessible and is a proud Leadership Level business member. And with a staff full of bicycling enthusiasts, we love to publish books that address our shared goals. You may have read some of our recent bike-centric books, such as
Bike Boom
by Carlton Reid,
Start-Up City
by Gabe Klein (also the keynote speaker at the 2018 Vision Zero Summit!), and our newest biking book,
Copenhagenize
by Mikael Colville-Andersen.
Copenhagenize: The Definitive Guide to Global Bicycle Urbanism
is a fun and visual guide to show cities how to effectively re-establish the bicycle as a respected, accepted, and feasible form of transportation. In his book, Mikael offers project descriptions and stories of best practices alongside beautiful photos to illustrate how to make the bicycle an easy, preferred part of everyday urban life.
"The first step in bicycle urbanism is to think bicycle first…We have been thinking car first for decades and that worked pretty well for motorists and the engineers who cater to them. Now it's time to switch it up. It's time to change the question." -Mikael Colville Andersen in Copenhagenize
Island Press will be celebrating
Copenhagenize
throughout May to celebrate bike month
and our annual sweepstakes
. This year, the grand prize is a trip for two to Washington, DC and two tickets to WABA's annual
50 States and 13 Colonies Ride
! The second place prize is a Fortified bike, and each week we're giving away a Patagonia biking pack. We will also spotlight a different city with successful bicycle infrastructure alongside the work of local bike organizations on the ground. Enter the sweepstakes each week to increase your chances of winning and to see what city is next on our list! Enter the sweepstakes by joining our newsletter and entering your zip code
https://islandpress.org/bike
.  If you're ready to take a deeper dive into Mikael's book, you can use the 25% off discount code
BIKES
to purchase it from the
Island Press store
. Also check out
WABA's events
for more fun ways to enjoy Bike Month!