Closer to Nature and Community
This guest post is by WABA Member Inez Steigerwald, who teaches 3rd and 4th grades in College Park. Read the other entries in our Bike to School Day series here and here.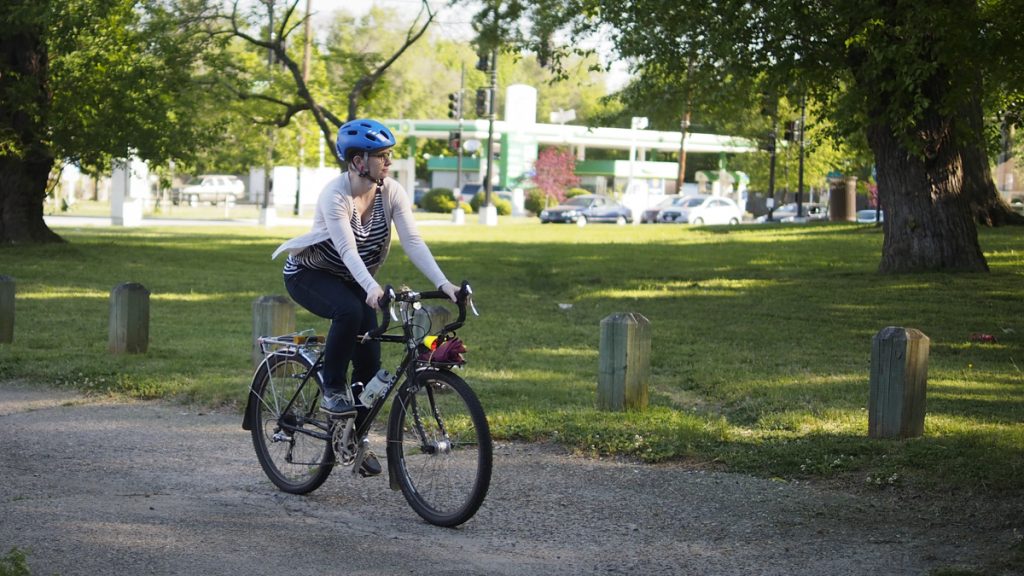 When you think of Bike to School Day you think of kids on the backs of cargo bikes, kids on trail-a-bikes, kids on their own small bikes riding along with their parents to get to and from school. But this is DC, and riding a bike is often the quickest, easiest, and cheapest way to get around the city. Getting some exercise is just icing on the cake. That's why, as a teacher, I ride my bike to work. My favorite school year commute was the year that my co-teacher and I commuted together. We lived in the same neighborhood and often left work at the same time. We could debrief the day or use the time as a rare opportunity to talk about something
other
than our students and what we were going to do for math the next day. Having somebody I liked both in and out of the classroom made the three and and half miles across town on busy streets pass quickly, and I often came home feeling simultaneously relaxed and invigorated. When my school moved a few years later, I got to do half of my ride on the Metropolitan Branch Trail. Tulips in the spring, raspberries in early summer, an incredible view of the sunrise over the Red Line tracks, and a lot less honking. I used to pass the same mom walking her young son to school most mornings. Sometimes I ran into a coworker on my way to work, or a neighbor on my way home. Did you know that they plow the MBT when it snows? This year I've moved to a new school, and my new commute has been my least stressful ride yet — two of my seven miles each way are on residential streets, and the rest is on the Northeast Branch Trail. Have you ever seen the morning mist on the Anacostia? In the mornings I see hardly anyone else — a few people getting in an early morning run, a few dog walkers. In the afternoons the playgrounds and soccer fields I pass are full of people. It's not all peachy, of course. Crossing Florida Ave on my bike was nerve wracking every single day—I never thought I'd have such strong feelings about turning right on red. Wintry mix is unpleasant no matter how you commute. But when the choice was 25 minutes of exercise, for free, on my bike or 45 minutes in rush hour traffic on a bus, the choice was clear. Now my commute is longer—45 minutes each way through woods, along running water, checking in with the cranes and the foxes. I bike to school mostly because it's affordable and convenient and I like the time outside, but also because it keeps me learning. When I ride, I learn new things every day about the city, about our environment, and about my community, and I think that helps me as a teacher.